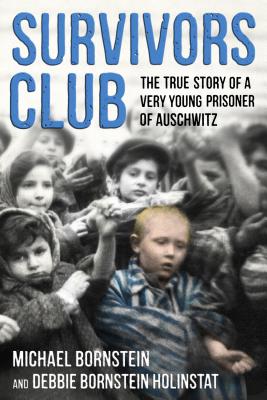 Survivors Club
The True Story of a Very Young Prisoner of Auschwitz
Hardcover

* Individual store prices may vary.
Other Editions of This Title:
Digital Audiobook (3/6/2017)
Paperback (1/15/2019)
CD-Audio (3/7/2017)
Description
A New York Times bestseller
"Both moving and memorable, combining the emotional resolve of a memoir with the rhythm of a novel." —New York Times Book Review
In 1945, in a now-famous piece of World War II archival footage, four-year-old Michael Bornstein was filmed by Soviet soldiers as he was carried out of Auschwitz in his grandmother's arms. Survivors Club tells the unforgettable story of how a father's courageous wit, a mother's fierce love, and one perfectly timed illness saved his life, and how others in his family from Zarki, Poland, dodged death at the hands of the Nazis time and again with incredible deftness. Working from his own recollections as well as extensive interviews with relatives and survivors who knew the family, Michael relates his inspirational Holocaust survival story with the help of his daughter, Debbie Bornstein Holinstat. Shocking, heartbreaking, and ultimately uplifting, this narrative nonfiction offers an indelible depiction of what happened to one Polish village in the wake of the German invasion in 1939.
This thoroughly-researched and documented book can be worked into multiple aspects of the common core curriculum.
A New York City Public Library Notable Best Book for Teens
Praise For Survivors Club: The True Story of a Very Young Prisoner of Auschwitz…
"This book is published as narrative nonfiction for young readers, but the equal measures of hope and hardship in its pages lend appeal to an audience of all ages . . . Remarkable." —Ruta Sepetys in the New York Times Book Review
"A wrenching, shocking, and ultimately inspiring memoir, a tale of unrelenting optimism and resilience that is no less than miraculous . . . [Survivors Club] is hauntingly timely." —Esquire
"Enhanced by meticulous archival research, Bornstein's story unfolds in novelistic form . . . This moving memoir [is] an important witness to the capacity for human evil and resilience." —Publishers Weekly, starred review

"[An] exceptional book of memoir and history . . . worth reading more than once. It is compelling; there is something novelistic about it. It certainly reads with more verve and detail than most straight testimonies . . . Although listed for ages 10 – 14, it also makes excellent adult reading." —Jewish Book Council, starred review
"A tenderly wrought tribute to family, to hope, and to the miracles both can bring. A powerful memoir." —Booklist
"The most memorable part of this extraordinary nonfiction work is the hope amidst tragedy and the ways individuals and families banded together despite unimaginable odds, including the challenges to rebuild after breaking free from the concentration camps only to find a world still filled with hatred and fear." —VOYA
"A powerful reconstruction of family history . . . An ideal follow-up selection for students who have read The Diary of Anne Frank." —The Bulletin of the Center for Children's Books
"Middle schoolers will be engrossed by Bornstein's account . . . The book is written in a soothing tone, which helps balance some of the grim details of Jewish life under the Nazi regime . . . The storytelling is fast-paced, and readers will be fascinated by this family's survival and endurance. Few Holocaust survivors are still alive; Bornstein's account is an excellent addition to middle school collections." —School Library Journal
"In today's world, it remains more important than ever to remember these survivors." —Kirkus Reviews
Farrar, Straus and Giroux (BYR), 9780374305710, 352pp.
Publication Date: March 7, 2017
About the Author
Michael Bornstein survived for seven months inside Auschwitz, where the average lifespan of a child was just two weeks. Six years after his liberation, he immigrated to the United States. Michael graduated from Fordham University, earned his Ph.D. from the University of Iowa, and worked in pharmaceutical research and development for more than forty years. Now retired, Michael lives with his wife in New York City and speaks frequently to schools and other groups about his experiences in the Holocaust.
With Debbie Bornstein-Holinstat, Michael is the author of Survivors Club: The True Story of a Very Young Prisoner of Auschwitz.
Debbie Bornstein Holinstat
is Michael Bornstein's third of four children. A producer for NBC and MSNBC News, she lives in North Caldwell, New Jersey. She also visits schools with her father, and has been working with him for two years, helping him research and write his memoir,
Survivors Club
, although she has grown up hearing many of the stories in the book her entire life.
1. We saw in the book that choices were sometimes the difference between life and death, horror and escape, for Michael and his family. Other times, it was luck and good timing that made the difference. In Michael's particular case, which do you think was more significant in accounting for his survival?
2. In the book, Ruth's parents gave her away twice to neighbors who promised to take care of her, but she ended up at an orphanage. Evaluate the decisions the housekeeper and the shoemaker made: do you agree with their choices?
3. If you lived in Poland during the Holocaust, what might you have done? Do you think you would have made the choices that Michael's parents made—such as staying in the open ghetto until the end—or would you have searched for a family willing to hide you in an attic like Ruth's family did?
4. If you were a non-Jewish person living in Poland, do you think you would have risked your life and your family's safety to harbor a Jew in your attic?
5. Why do you think Hitler rose to power and got away with ordering his Nazi military to commit such horrible crimes against Jews and other minority groups?
6. Today there is still evidence of anti-Semitism all over the world. Why do you think there are people who dislike Jews? Are there other minority groups who face similar persecution today?
7. Despite well-documented evidence of the Nazi crimes, there are some who still deny that the Holocaust happened. Why is it difficult for some people to confront and accept negative events in history? How can we respond to Holocaust deniers?
8. Jewish people often use the motto "Never forget" when talking about the Holocaust. Once the last of the survivors is gone, will future generations forget what happened to Jews and other persecuted minorities during World War II? What can each of us do to make sure future generations "Never forget"?
9. How do the crimes against humanity committed by Hitler and the Nazis demonstrate the need for a "zero tolerance" policy against bullying in our everyday lives?