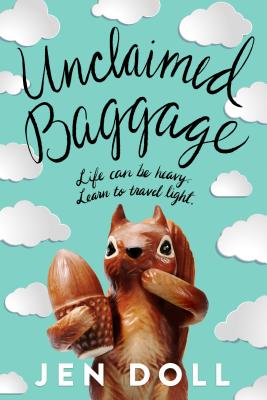 Unclaimed Baggage (Hardcover)
Farrar, Straus and Giroux (BYR), 9780374306069, 384pp.
Publication Date: September 18, 2018
* Individual store prices may vary.
Description
*A New York Times Staff Pick*
*An NPR Best Book of 2018*
*A Buzzfeed Best YA Book of 2018*
In Jen Doll's young adult debut novel, Unclaimed Baggage, Doris—a lone liberal in a conservative small town—has mostly kept to herself since the terrible waterslide incident a few years ago. Nell had to leave behind her best friends, perfect life, and too-good-to-be-true boyfriend in Chicago to move to Alabama. Grant was the star quarterback and epitome of "Mr. Popular" whose drinking problem has all but destroyed his life. What do these three have in common? A summer job working in a store called Unclaimed Baggage cataloging and selling other people's lost luggage. Together they find that through friendship, they can unpack some of their own emotional baggage and move on into the future.
About the Author
Jen Doll is the author of the debut young adult novel, Unclaimed Baggage and the memoir Save the Date: The Occasional Mortifications of a Serial Wedding Guest. She's written for The Atlantic, Elle, Esquire, Glamour, GQ, New York Magazine, The New York Times Book Review, Vice, The Village Voice, The Week, and many other publications. She grew up in Alabama and lives in Brooklyn.
Praise For Unclaimed Baggage…
*A New York Times Staff Pick*
*An NPR Best Book of 2018*
*A Buzzfeed Best YA Book of 2018*
*A Bustle.com Best YA Book of September 2018*
*A Hypable YA September Must-Read*
*A Cosmo Best New Book of 2018*
*A BookRiot Fall 2018 YA Must-Read*
*A Mental Floss Best Book of 2018*

"Jen Doll's big-hearted YA debut . . . Doll breezily alternates among the voices of her likable characters as they move toward new discoveries, new romance and unexpected adventure." —The New York Times Book Review
"A magnificent gem of a story . . . a dense, rich, and powerfully beautiful story. A quintessential Southern Novel for Teens, bordering on Gothic, but still managing to leave the reader with a sense of wonder and optimism." —NPR
"In her YA debut, Doll skillfully integrates three alternating voices—especially Doris, with her gift for finding things—in a story threaded through with relationships and identities lost and found. Over the course of the summer, junk and treasures, both sentimental and real, pass through the shop; family history is reclaimed; and things, stories, and people find new places to belong." —Publishers Weekly, starred review
"Doll deftly navigates difficult topics like alcoholism, sexual assault, and racism with a compassion for her characters and her audience, making for a deeply engaging read that beautifully balances life's more profound moments with ones of levity and frivolity." —Nylon
"An infectious story about friendship, politics, and falling in (and out) of love." —Entertainment Weekly
"And when it comes to reaching young readers, there's much to celebrate about Doll's willingness to not only get political, but really present how politics affects us all." —EW.com
"Jen Doll's debut YA novel Unclaimed Baggage is told in each of their three perspectives as they literally unpack lost baggage while unpacking their respective emotional baggage, and it's a testament to the power of friendship." —Bustle
"If your Netflix queue runneth over with YA rom-coms, this is the book for you. This story of three unlikely friends who meet while working a summer job selling people's lost luggage is your next binge-read." —Cosmopolitan
"Perfectly heartwarming and quirky." —HelloGiggles
"Plenty of emotional baggage is unpacked in alternating narrative style in this deceptively weighty novel, particularly between Doris and Grant, who have a history together that rings true to the way peer dynamics often play out in small, insular communities . . . Teens who favor realistic fiction will find much to like here." —Kirkus Reviews
"Nestled into this breezy book about friendship and love sits conversations on racism, religion, sexual assault, alcoholism, and life choices. The friendship among Nell, Doris, and Grant creates a safe place where the three of them can come to terms with issues and not be judged. The quirky store where they work sets the tone for the novel. VERDICT A great choice for fans of Morgan Matson's Since You've Been Gone." —School Library Journal
"This was a great book, and I highly recommend it for anyone of any age to read." —The Decatur Daily
"Unclaimed Baggage, delivers a page-turning story of three unlikely friends navigating an abundance of current social issues confronting present-day teenagers. It's Doll's unflinching gaze at such complex and sometimes controversial themes that should appeal to any young person who has ever been underestimated for not being savvy enough to take on the challenges of the world around them." —The Chronogram
"A testament to the restorative power of friendship, with an intriguing premise and setting that will inspire readers to come to terms with their own 'unclaimed baggage'." —Leila Sales, author of This Song Will Save Your Life

"Set against the lively landscape of modern day Alabama, three unlikely friends are thrown together for an unusual summer that is part adventure, part romance, part backyard treasure hunt. Sharply conceived and deeply felt, Jen Doll spins a story that details the intricate and surprising relationships of maverick Doris, free-spirited Nell, and troubled golden-boy Grant who wear their hearts—and will steal yours—on every page of this warm, funny, and wryly-observed novel." —Adele Griffin, author of the National Book Award Finalists Sons of Liberty and Where I Want to Be

"The small-town Alabama teens I met in Jen Doll's stellar book have populated my mind and heart. This story will stay with you." —Melissa Walker, author of Unbreak My Heart and Small Town Sinners
"UNCLAIMED BAGGAGE is equal parts tender, funny, and affirming. This tale of three small town teens and the quirky workplace that draws them together reminds readers that the universe has a way of bringing us the people we need most in our lives. I absolutely adored this book." —Jennifer Mathieu, author of Moxie
"Jen Doll's writing is as full of surprise and treasure as the titular Unclaimed Baggage. I fell hard for Doris, Nell, and Grant, and their story that celebrates the discovery of true friendship." —Ava Dellaira, author of Love Letters to the Dead and In Search of Us
"Jen Doll's luminous, deeply felt debut novel Unclaimed Baggage will claim your heart as immediately as it claimed mine. Anyone who has felt out of step in her hometown, anyone who has felt like she was living in a constant state of culture shock despite never having left home, anyone carrying heavy bags, be they literal or emotional, will spark to this story of friendship, selfhood, and discovery of abandoned treasures." - Katherine Howe, New York Times bestselling author of Conversion