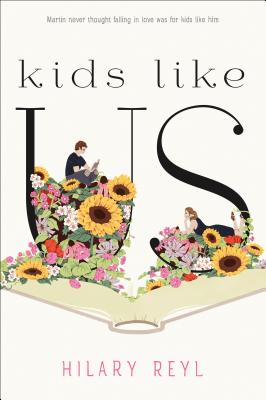 Kids Like Us (Hardcover)
Farrar, Straus and Giroux (BYR), 9780374306281, 288pp.
Publication Date: November 14, 2017
* Individual store prices may vary.
Description
Martin is an American teen on the autism spectrum living in France with his mom and sister for the summer. He falls for a French girl who he thinks is a real-life incarnation of a character in his favorite book. Over time Martin comes to realize she is a real person and not a character in a novel while at the same time learning that love is not out of his reach just because he is autistic.
About the Author
Hilary Reyl has a PhD in French Literature from NYU and has spent several years working and studying in France. She lives in New York City with her husband and three daughters. She is the author of Lessons in French and Kids Like Us.
Praise For Kids Like Us…
"While Reyl hasn't broken the mold of autistic teen protagonists, Martin is a credit to the growing corpus, with multimodal idiosyncrasies that he builds on rather than buries and a validating first-person narrative and first romance. A charming teen debut." —Kirkus

"Reyl movingly captures the point of view of a person who sees the world in a completely
different way. Her writing is lucid and luminous, and the first-person narrative has a cinematic quality as Martin processes the world around him. Charming, thoughtful Martin is easy to root for, and readers will cheer as he triumphs over obstacles." —Booklist starred review

"The original narrative voice of 16-year-old Martin drives adult author Reyl's insightful and multilayered first book for teens, which brims with nostalgia, romance, complex supporting characters, and fascinating introspection... Martin's childhood memories, such as his parents' early distress at his diagnosis ("We thought he was so cute, and he's actually Rain Man"), blend seamlessly into the narrative, while Martin's reflections on "the neurodiversity movement," and efforts to "cure" autism raise thought-provoking ethical questions." —Publishers Weekly starred review

"...the book's indebtedness to Proust goes beyond lyrical phrases to a thematic embrace of the slow savoring of the richness of human experience. In the end, however, it is Martin's ability to move beyond "things past" to the possibilities that open up when you accept yourself and others that gives this wise story its resonance."—Bulletin of the Center for Children's Books, starred review

"Reyl succeeds in portraying the various bubbles people live in and where and how they might find common ground...Martin is a likable protagonist, and the denouement—with Martin moving beyond Proust to see himself not as "an old man with regrets" but as a young man at the beginning of his life—is optimistic yet realistic."—The Horn Book

"Martin's first-person, and sometimes second-person, engaging voice gives insight into the unique way he sees the world and other people. The atypical romance is endearing but it is Martin's relationships with his friends and, especially, with his missing father that are central to his growth. Teens who enjoy quirky contemporary stories will appreciate Martin." —VOYA