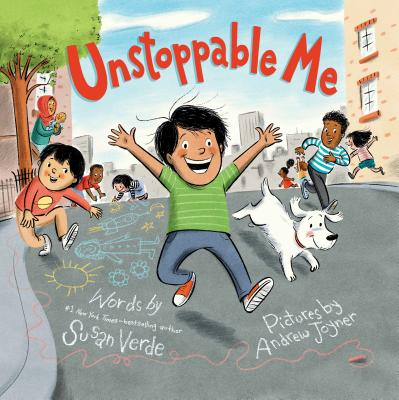 Unstoppable Me (Hardcover)
Farrar, Straus and Giroux (BYR), 9780374307387, 32pp.
Publication Date: July 23, 2019
* Individual store prices may vary.
Description
I am movement
Heat
Static electricity
Fueled by food
And powered by PLAY!
Unstoppable Me is about the sort of energetic child we all know and love — full of fun and play...and a bit exhausting! In this book, we see an unstoppable little boy, run, jump, and soar through his day. He takes a little time to refuel, then he's back at it—zooming and zipping around. From #1 New York Times bestselling author, Susan Verde, comes a poetic and joyful book about the celebration of an active child.
About the Author
Susan Verde grew up in Greenwich Village in New York City. She earned a Bachelor's Degree in Elementary Education and a Master's in reading remediation and became an elementary school teacher at a private school in Bridgehampton, NY.
She is the author of many picture books including I am Yoga and I am Peace. She currently lives in East Hampton, New York with her family.
Andrew Joyner
is an Australian illustrator and author of children's books. Some of his most notable books are
Too Many Elephants in This House
and
The Pink Hat.
He lives with his family in a small country town on the Fleurieu Peninsula in South Australia.
Praise For Unstoppable Me…
"This Everykid plays, loves, and laughs, affirming not just unstoppability, but an unapologetic love of self. Joyner's vivid colors give the book and text a feeling of energy and highlight the diversity of the characters on the pages . . . a delightful read-aloud that kids will enjoy and parents will get a chuckle out of as they see themselves in the book. Bound to provoke many cries of 'Again!'" —Kirkus Reviews
"Joyner's exuberant illustrations capture the boy's perpetual motion and zest for life. There is a definite need for books of this ilk, focusing on the wonderful, wacky, and super-charged lives of kinesthetic learners . . . Parents and teachers of "kids who just can't sit still" like Verde's own (she provides an author's note at the end explaining her perspective) will likely find humor and camaraderie in the story." —School Library Journal
"Joyner's energetic cartoon artwork conveys the spirit of Verde's words, showing the 'perpetual motion' of very young children . . . young readers will close this book feeling invigorated by the possibilities before them." —Publishers Weekly