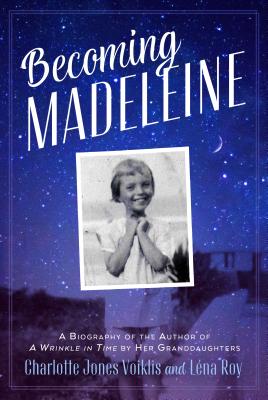 Becoming Madeleine
A Biography of the Author of A Wrinkle in Time by Her Granddaughters
Hardcover

* Individual store prices may vary.
Description
This middle-grade biography explores the life and works of Madeleine L'Engle —written by her granddaughters.
This elegant and insightful biography of Madeleine L'Engle (1918–2007) was written by her granddaughters, Charlotte Jones Voiklis and Léna Roy. Using never-before-seen archival materials that include photographs, poems, letters, and journal entries from when Madeleine was a child until just after the publication of her classic, A Wrinkle in Time, her granddaughters weave together an in-depth and unique view of the famous writer. It is a story of overcoming obstacles—a lonely childhood, financial insecurity, and countless rejections of her writing—and eventual triumph. Becoming Madeleine will speak not only to fans of the icon's work, but also to anyone interested in writing.
This title has Common Core connections.
Praise For Becoming Madeleine: A Biography of the Author of A Wrinkle in Time by Her Granddaughters…
"A publishing event. . .[Madeleine's granddaughters] do her proud, organizing the information well, presenting it clearly, and drawing on her journals for the lively excerpts that make this book so very readable. . .A fine tribute to a legendary writer, 100 years after her birth." —Booklist, starred review
"The book will appeal to aspiring writers as well as L'Engle's admirers. . .A personal prologue and a moving epilogue that succinctly touches on L'Engle's later adulthood from her granddaughters' perspective are additional highlights, as are the many photos of the writer and her family." —Publishers Weekly
"This richly documented, intimate biography will give readers and writers of every age a deeper understanding of the beloved writer. In addition, readers will discover the pride, understanding, and bonds of kinship that emerge when generations within a family share life experiences." —School Library Journal
"A sweet biography. . .nice insight into the artist as a young woman, particularly as demonstrated in her journal entries, generously shared here." —The Horn Book
Farrar, Straus and Giroux (BYR), 9780374307646, 176pp.
Publication Date: February 6, 2018
About the Author
Charlotte Jones Voiklis manages her late grandmother Madeleine L'Engle's literary business. She lived with her grandmother during college and graduate school, co-hosting dinner parties, helping answer readers' letters, and earning a Ph.D. in Comparative Literature. Charlotte has worked in academia, nonprofit communications and fundraising, and philanthropy. She lives in New York City with her husband and two children.

Léna Roy published her first novel, Edges (FSG), in late 2010. She is the Regional Manager for Writopia Lab in Westchester and Connecticut, and her writing was featured in the essay collection for middle school kids and their teachers Breakfast on Mars and 37 Other Essays to Devour: Your Favorite Authors Take on the Dreaded Essay Assignment. She lives in New York.