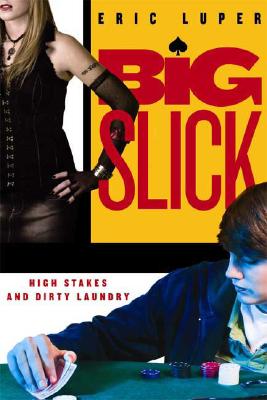 Big Slick (Hardcover)
Farrar, Straus and Giroux (BYR), 9780374307998, 240pp.
Publication Date: September 18, 2007
* Individual store prices may vary.
Description
All in all, sixteen-year-old Andrew Lang has been dealt a pretty good hand in life. Sure, he has to spend his afternoons slaving away in the hellhole that is his dad's dry-cleaning business, but even that's not so bad with Jasmine, the seriously hot Goth-chick senior, working right beside him. So what if she's got a boyfriend? Plus, Andrew's got an ace up his sleeve - he's good at poker. Very good. Unfortunately, all it takes is one bad beat at Shushie's illegal poker club to turn Andrew's bankroll from huge to nonexistent. And Andrew's pretty sure that sooner or later his dad's going to notice that $600 he "borrowed" from the register. Andrew thinks he may know how to get the money back, but it's a little bit crazy, and a little bit dangerous . . .

In this breakneck-paced novel about gambling and growing up, the stakes are high, and Andrew must ask himself: What does going all in really mean?
About the Author
ERIC LUPER is an avid poker player who, among other things, once managed a dry-cleaning store. He lives in Albany, New York. "Big Slick" is his first novel.
Praise For Big Slick…
"Luper's authentic first-person narrative captures teen frustrations, feelings of confinement, and the mottled world of poker . . . Powerful."—Kirkus Reviews "BIG SLICK is an action-filled tale involving hot girls, hot cars, very dangerous people, serious desperation, and some serioulsy bad choices. I'm betting that BIG SLICK is going to be both extremely popular and a great new title for reluctant readers." —Richie's Picks
"If you like poker and being at the edge of your seat, you will love this [book]!" —A YALSA YA Galley Teen Reader
"Not too much poker to be totally Latin, but enough to keep things interesting. Big Slick is a fun rollercoaster bound to dash you away!"
—
A YALSA YA Galley Teen Reader
"[Readers] willing to pony up a couple of hours' reading time should be pleased with the payoff."
—Bulletin for the Center for Children's Books
or
Not Currently Available for Direct Purchase