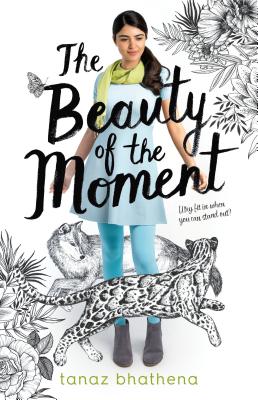 The Beauty of the Moment (Hardcover)
Farrar, Straus and Giroux (BYR), 9780374308445, 368pp.
Publication Date: February 26, 2019
* Individual store prices may vary.
Description
Susan is the new girl—she's sharp and driven, and strives to meet her parents' expectations of excellence. Malcolm is the bad boy—he started raising hell at age fifteen, after his mom died of cancer, and has had a reputation ever since.
Susan's parents are on the verge of divorce. Malcolm's dad is a known adulterer.
Susan hasn't told anyone, but she wants to be an artist. Malcolm doesn't know what he wants—until he meets her.
Love is messy and families are messier, but in spite of their burdens, Susan and Malcolm fall for each other. The ways they drift apart and come back together are testaments to family, culture, and being true to who you are.
About the Author
TANAZ BHATHENA was born in Mumbai and raised in Riyadh, Jeddah and Toronto. Her short stories have appeared in various journals, including Blackbird, Witness, and Room Magazine. A Girl Like That is her first novel.
Praise For The Beauty of the Moment…
"Bhathena has crafted a masterfully complex story filled with flawed characters and a titanium-strength love story. In The Beauty of the Moment, readers will fall in love, experience the heartbreak, and chase burgeoning hope to the end. A brilliant follow up to A Girl Like That." —Nisha Sharma, author of My So-Called Bollywood Life
"This dramatic romance, told from Susan and Malcolm's alternating viewpoints, authentically traces the teens' gradual changes as they come to terms with mistakes they've made and who they want to be." —Publishers Weekly
"[Susan and Malcolm's] struggles with expectations and traditions born in a faraway land will ring true for any reader with immigrant parents. . .A good recommendation for readers interested in romance." —Booklist