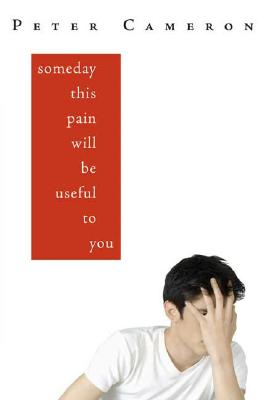 Someday This Pain Will Be Useful to You (Hardcover)
Farrar, Straus and Giroux (BYR), 9780374309893, 240pp.
Publication Date: September 18, 2007
Other Editions of This Title:
Paperback (4/28/2009)
Compact Disc (11/25/2008)
* Individual store prices may vary.
Description
It's time for eighteen-year-old James Sveck to begin his freshman year at Brown. Instead, he's surfing the real estate listings, searching for a sanctuary—a nice farmhouse in Kansas, perhaps. Although James lives in twenty-first-century Manhattan, he's more at home in the faraway worlds of Eric Rohmer or Anthony Trollope—or his favorite writer, the obscure and tragic Denton Welch. James's sense of dislocation is exacerbated by his willfully self-absorbed parents, a disdainful sister, his Teutonically cryptic shrink, and an increasingly vague, D-list celebrity grandmother. Compounding matters is James's growing infatuation with a handsome male colleague at the art gallery his mother owns, where James supposedly works at his summer job but where he actually plots his escape to the prairie.
 
In the tradition of The Catcher in the Rye and The Perks of Being a Wallflower (Booklist has hailed Cameron as "one of the best writers about middle-class youth since Salinger"), Peter Cameron paints an indelible portrait of a teenage hero holding out for a better grownup world.  Someday This Pain Will Be Useful to You is a 2008 Bank Street - Best Children's Book of the Year.
About the Author
PETER CAMERON's work has appeared in "The New Yorker" and he is the author of several novels for adults, including "Andorra" and "The City of Your Final Destination." He lives in New York City.
Praise For Someday This Pain Will Be Useful to You…
"It's his best work—it's terrific, piercing and funny. The novel demonstrates every kind of strength."—New York Times Book Review "The dialogue pings...Cameron, a respected author of adult fiction, has written a spare, spacious, quietly dazzling book for teens and former teens."—Starred, The Horn Book "Deliciously vital right from the start...Someday This Pain Will Be Useful to You is a piece of vocal virtuosity and possibly Cameron's best book: it retains the lucid and unlabored prose of his previous ones but wastes less time; it may be his most successful novel on its own terms -- terms that are not as modest as they may initially seem...What Peter Cameron has done is written a sophisticated and adult book. Neither young adult literature, nor even really a coming-of-age story, Someday This Pain Will Be Useful to You is most surprisingly of all the subtlest September 11 novel yet written. So accomplished is its subtlety that one is not even aware of this novel's true subject until three quarters of the way through, and then its mention...rises up out of the story's barely submerged anxiety and casts on the book a sudden, brilliant light. It is a bravura performance, and Someday This Pain Will Be Useful to You is a stunning little book."—New York Review of Books "Pain brings pleasure when it delves into the poignancy of James' isolation." —Entertainment Weekly "James Sveck is a brilliant wit of a character whose voice will echo long after his story ends." —The Chicago Tribune "Full of a longing yet often keenly humorous." —The Chicago Sun Times "The book both fits within and smashes any number of literary molds: coming-of-age novel, New York novel, 9/11 novel. From the first sentence, you'll be snagged by its precocious, funny-sad narrator and his you'd-pay-to-hear-him-read-the-phone-book voice."—The Boston Globe"Subtle and beautiful...will speak volumes to anyone still casting a backward glance toward the honest pain of youth."—Out Magazine ". . . One of the all-time great New York books, not to mention an archly comic gem." —LA Weekly "With its off-balance marriage of the comedic and the deeply painful, its sympathetic embrace of its characters and its hard-won hope, this smart and elegantly written novel merits a wide readership." — Starred, Publishers Weekly "Cameron's power is his ability to distill a particular world and social experience with great specificity while still allowing the reader to access the deep well of our shared humanity."—Starred, Kirkus Reviews
"A critically acclaimed author of adult fiction, Cameron makes a singularly auspicious entry into the world of YA with this beautifully conceived and written coming of age novel that is, at turns, funny, sad, tender, and sophisticated."—Starred, Booklist "Those experiencing the heady rush of that first gloom of youth will find...an articulate philosophical guide."—Bulletin of the Center for Children's Books "The irony and wit Cameron's characters exchange is truly refreshing and had my teens, at least, cackling with appreciation."—Toronto Star "[James'] highly cultured, dryly funny voice, which seduces the reader from the first page on, makes Someday This Pain Will Be Useful to You appealing to adult readers as well." —Newsday "Cameron is never rushed in the narrative, taking his time to show readers that sometimes the events of one's life can take a toll that is difficult to see."—VOYA "The lead character of Peter Cameron's blisteringly funny and touching novel...is a Holden Caulfield for the 21st century."—Zink Magazine "Beautifully written...James is the type of narrator you want to both shake and hug."—LAMDA Book Report "Cameron's prose is sometimes laugh-out-loud...likely to appeal to teens going through a lot of the same problems." —The Newark Star-Ledger
"Not since The Catcher in the Rye has a novel captured the deep and almost physical ache of adolescent existential sadness as trenchantly as the perfectly titled Someday This Pain Will Be Useful to You. You don't have to be eighteen to relate to James Dunfour Sveck and his sense of alienation from a world he doesn't understand, nor to be profoundly moved by his story. Told with compassion, insight, humor, and hope, Someday This Pain Will Be Useful to You deserves to be read by readers of all ages for years to come. I would have loved it as a teenager, and I love it now." —James Howe, author of The Misfits

"As I drew near the end of Someday This Pain Will Be Useful to You, I read more and more slowly because I didn't want to leave James. With his devotion to precise English, his dislike of most other people—especially those his own age—and his adoration of his grandmother and old houses, James is the ideal antihero and companion. And, most important of all, he never utters a dull sentence. This is a riveting, suspenseful, witty, and very funny novel." —Margot Livesey, author of Banishing Verona

"Peter Cameron is one of my favorite writers, and this is one of his best books, a shrewd, funny, and at times painful story about the difficulty of becoming an adult. James is a wonderful narrator—brilliant and witty, remarkably observant, and just a little infuriating. His voice is so irresistible you'll hate to put the book down." —Stephen McCauley, author of Alternatives to Sex

"The effect that comes from reading this comedic and beautiful novel is one that I particularly love and only happens with certain books—this feeling that you madly adore the narrator, that you've made this new intimate friend, and that for a little while (the duration of the book, at least) you're a little bit less alone in the world." —Jonathan Ames, author of Wake Up, Sir! and The Extra Man "You would think the world has had enough angsty teen books, but to be exact, the world's just been waiting for the messiah of teen angst. And now, the wait is over. The book that actually reads your mind is HERE." —A YALSA YA Galley Teen Reader "Terrific, well woth passing on to teens." —IRA "Astonishing." —A YALSA YA Galley Teen Reader
or
Not Currently Available for Direct Purchase