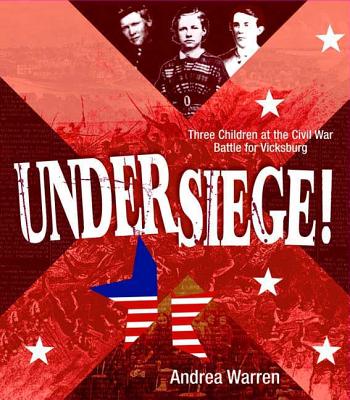 Under Siege!
Three Children at the Civil War Battle for Vicksburg
Hardcover

* Individual store prices may vary.
Other Editions of This Title:
Paperback (1/20/2015)
Prebound (1/20/2015)
Description
Meet Lucy McRae and two other young people, Willie Lord and Frederick Grant, all survivors of the Civil War's Battle for Vicksburg. In 1863, Union troops intend to silence the cannons guarding the Mississippi River at Vicksburg – even if they have to take the city by siege. To hasten surrender, they are shelling Vicksburg night and day. Terrified townspeople, including Lucy and Willie, take shelter in caves – enduring heat, snakes, and near suffocation. On the Union side, twelve-year-old Frederick Grant has come to visit his father, General Ulysses S. Grant, only to find himself in the midst of battle, experiencing firsthand the horrors of war.

"Living in a cave under the ground for six weeks . . . I do not think a child could have passed through what I did and have forgotten it." – Lucy McRae, age 10, 1863

Period photographs, engravings, and maps extend this dramatic story as award-winning author Andrea Warren re-creates one of the most important Civil War battles through the eyes of ordinary townspeople, officers and enlisted men from both sides, and, above all, three brave children who were there.
Praise For Under Siege!: Three Children at the Civil War Battle for Vicksburg…
"Although her subtitle refers to three children, author Andrea Warren offers a wide-ranging account of the tactics, terrain and geography as well as the experience of Vicksburg's residents--many women, children and slaves among them--who endured the 47-day siege." —The Washington Post

"This volume is not only an excellent source for reports but is riveting historical reading as well." —School Library Journal

"The constant bombardment of the town; the very real dangers and inconveniences of hiding in Mississippi River caves; and the alternately festive and morbidly curious citizens of Vicksburg, who would regularly view the battle--all combine to present readers with an 1863 seldom pictured in textbooks." —The Horn Book

"The many quotes offer insights into the points of view of Vicksburg residents and soldiers on both sides of the conflict. . . . Vivid, informative history." —Booklist, starred review

"A unique perspective on a pivotal Civil War campaign." —Kirkus Reviews
Farrar, Straus and Giroux (BYR), 9780374312558, 176pp.
Publication Date: April 27, 2009
About the Author
I grew up in a tiny Nebraska town, and our public library was my refuge. I still remember books I read and reread there. At the time, it never occurred to me that someday I could write books. In fact, it took me several decades to confront my desire to write full-time. I kept waiting for someone to tell me to do it—to give me permission. I finally had to give myself permission, and it was the hardest and the easiest thing I've ever done.

While I love fiction, I am happy at present writing historical nonfiction. I might have majored in history and devoted my teaching career to it except for one major problem: I so often found it boring. Wars and treaties and successions of kings and presidents didn't interest me nearly as much as the people behind the facts. I loved historical literature, like War and Peace, which taught me the facts but did so almost surreptitiously because I was so engrossed in the lives of the characters. I have tried to pattern my writing for children in the same way.

Andrea Warren was born October 30, 1946, in Norfolk, Nebraska. She received her bachelors of science degree from the University of Nebraska in 1968, and a master's in English from the same university in 1971. Ms. Warren also received a master's in journalism from the University of Kansas in 1983. She has written numerous books for young readers, including Surviving Hitler: A Boy in the Nazi Death Camps, which was named a 2002 Robert F. Sibert Honor Book.
or
Not Currently Available for Direct Purchase