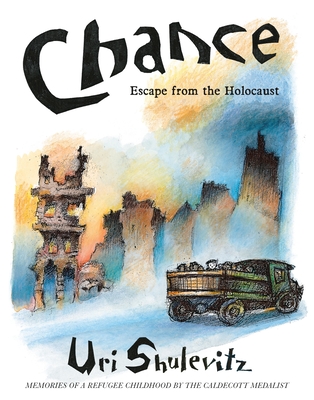 Chance
Escape from the Holocaust: Memories of a Refugee Childhood
Hardcover

* Individual store prices may vary.
Other Editions of This Title:
Digital Audiobook (10/12/2020)
CD-Audio (10/13/2020)
Description
Winner of the SCBWI Golden Kite Award for Illustrated Books for Older Readers
A Publishers Weekly Best Book of 2020
A New York Times Best Children's Book of 2020
Kirkus Reviews Best Books of 2020
Booklist Best Books of 2020
Horn Book Fanfare 2020 Booklist
Chicago Public Library Best of the Best 2020
Jewish Journal Twenty of the Best 2020 (Non-Holiday) Jewish Books for Kids
A National Jewish Book Award 2020 Finalist for Middle Grade Fiction
A 2021 Golden Dome Book Award Selection

"Harrowing, engaging and utterly honest." —Elizabeth Wein, The New York Times Book Review
"A captivating chronicle of eight turbulent years." —The Wall Street Journal

From a beloved voice in children's literature comes this landmark memoir of hope amid harrowing times and an engaging and unusual Holocaust story.

With backlist sales of over 2.3 million copies, Uri Shulevitz, one of Farrar, Straus and Grioux's most acclaimed picture-book creators, details the eight-year odyssey of how he and his Jewish family escaped the terrors of the Nazis by fleeing Warsaw for the Soviet Union in Chance.

It was during those years, with threats at every turn, that the young Uri experienced his awakening as an artist, an experience that played a key role during this difficult time. By turns dreamlike and nightmarish, this heavily illustrated account of determination, courage, family loyalty, and the luck of coincidence is a true publishing event.
Praise For Chance: Escape from the Holocaust: Memories of a Refugee Childhood…
"Harrowing, engaging and utterly honest." —Elizabeth Wein, The New York Times Book Review

"A captivating chronicle of eight turbulent years." —The Wall Street Journal

"Shulevitz's relationship with art, as a means of genuine expression and as a constant companion, is apparent not only in the memories he shares but also in his drawings. His illustrations showcase a great deal of emotional resonance . . . It is a privilege to hear this renowned artist reflect on his past, where hunger, loneliness, and fear battled with resilience, family strength, and the power of imagination . . . Middle school readers will find Shulevitz's darkly captivating memoir hauntingly impressive and extraordinary." —School Library Journal, starred review

"The first-person narrative, which continues through his teen years in Paris, is inviting and filled with absorbing details of everyday life, from playing games to facing bullies and fearsome dogs. The many illustrations—scary, imaginative, and humorous—are a brilliant accompaniment to the text, bringing into sharp focus stark images of civilians caught up in war. Despite the horrors, however, there is a strong sense of intimacy between the author and his readers . . . A memorable journey of survival and artistry." —Kirkus Reviews, starred review

"The spare, keenly observed narrative offers a harrowing look at a Jewish family's plight during WWII while documenting the birth of an artist with a great capacity for creativity . . . Stark and powerful black-and-white drawings by the author underscore gritty realities: people forced to carry water after Nazi planes bomb Warsaw, tension and fear in a truck bound for Bialystok, confrontations with Soviet officials, and a crowded bed the family inhabits in a settlement work camp. This affecting memoir of Shulevitz's childhood as a war refugee provides a deeply personal testament to the power of art." —Publishers Weekly, starred review

"Distinguished Caldecott Medal–winning author-illustrator Shulevitz creates an arresting and affecting memoir of terrible privation . . . The book's spare, straightforward text is liberally illustrated with Shulevitz's black-and-white Expressionist-style drawings plus the occasional photograph that has survived the war. Together, the images brilliantly capture the often-somber story of Shulevitz's early life, which he ultimately survived, as he says, by chance." —Booklist, starred review

"Though touching on many dark and serious topics, this story is totally focused on the fears, triumphs, and sensibilities of a child. It is truly a portrait of an artist as a young man thrust into a maelstrom of a world gone mad and relying on chance to decide his fate." —The Horn Book, starred review

"Shulevitz's artwork provides a wealth of varied visual commentary on autobiographical episodes . . . The author pauses at several points to contemplate events that seem to have made the difference between his family's survival and the grim fate of other Jews unable to flee Nazi genocide, tacitly encouraging readers to ponder the great mysteries of providence and chance." —Bulletin of the Center for Children's Books
Farrar, Straus and Giroux (BYR), 9780374313715, 336pp.
Publication Date: October 13, 2020
About the Author
Uri Shulevitz is a Caldecott Medal-winning illustrator and author. He was born in Warsaw, Poland, on February 27, 1935. He began drawing at the age of three and, unlike many children, never stopped. The Warsaw blitz occurred when he was four years old, and the Shulevitz family fled. For eight years they were wanderers, arriving, eventually, in Paris in 1947. There Shulevitz developed an enthusiasm for French comic books, and soon he and a friend started making their own. At thirteen, Shulevitz won first prize in an all-elementary-school drawing competition in Paris's 20th district. In 1949, the family moved to Israel, where Shulevitz worked a variety of jobs: an apprentice at a rubber-stamp shop, a carpenter, and a dog-license clerk at Tel Aviv City Hall. He studied at the Teachers' Institute in Tel Aviv, where he took courses in literature, anatomy, and biology, and also studied at the Art Institute of Tel Aviv. At fifteen, he was the youngest to exhibit in a group drawing show at the Tel Aviv Museum. At 24 he moved to New York City, where he studied painting at Brooklyn Museum Art School and drew illustrations for a publisher of Hebrew books. One day while talking on the telephone, he noticed that his doodles had a fresh and spontaneous look—different from his previous illustrations. This discovery was the beginning of Uri's new approach to his illustrations for The Moon in My Room, his first book, published in 1963. Since then he was written and illustrated many celebrated children's books. He won the Caldecott Medal for The Fool of the World and the Flying Ship, written by Arthur Ransome. He has also earned three Caldecott Honors, for The Treasure, Snow and How I Learned Geography. His other books include One Monday Morning, Dawn, So Sleepy Story, and many others. He also wrote the instructional guide Writing with Pictures: How to Write and Illustrate Children's Books. He lives in New York City.