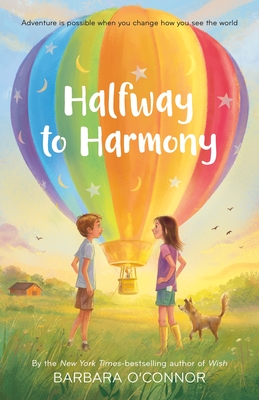 Halfway to Harmony
Hardcover

* Individual store prices may vary.
Description
A heartfelt middle-grade novel from New York Times bestselling author Barbara O'Connor about a boy whose life is upended after the loss of his older brother—timeless, classic, and whimsical.

Walter Tipple is looking for adventure. He keeps having a dream that his big brother, Tank, appears before him and says, "Let's you and me go see my world, little man." But Tank went to the army and never came home, and Walter doesn't know how to see the world without him.

Then he meets Posey, the brash new girl from next door, and an eccentric man named Banjo, who's off on a bodacious adventure of his own. What follows is a summer of taking chances, becoming braver, and making friends—and maybe Walter can learn who he wants to be without the brother he always wanted to be like.

Halfway to Harmony is an utterly charming story about change and growing up.
Praise For Halfway to Harmony…
"The two children balance fear with bravery. . .Heartfelt and accessible." —Kirkus Reviews

"This friendship story is sweet and savory, with memorable main characters in Walter, Posey, and Banjo and a story elegant in its simplicity." —Booklist

"The technical details of retrieving, repairing, launching, and piloting a hot-air balloon add flavor and expand the audience for this feel-good friendship story, and Walter's balloon ride satisfyingly fulfills Tank's dream-given promise of a new perspective on his familiar world." —The Bulletin of the Center for Children's Books

"O'Connor's characters are vividly portrayed, especially Walter, whose insight illustrates his grief. . .Banjo and Posey's antics provide levity, and the quest to save Banjo's balloon propels the plot forward, resulting in a feel-good novel. reminiscent of Moon Over Manifest." —Publishers Weekly
Farrar, Straus and Giroux (BYR), 9780374314453, 240pp.
Publication Date: January 12, 2021
About the Author
Barbara O'Connor is the author of numerous acclaimed books for children, including Fame and Glory in Freedom, Georgia, How to Steal a Dog, The Small Adventure of Popeye and Elvis, and The Fantastic Secret of Owen Jester. She has been awarded the Parents' Choice Gold and Silver Awards, the Massachusetts Book Award, the Kansas William Allen White Award, the South Carolina Children's Book Award, the Indiana Young Hoosier Award, the South Dakota Children's Book Award, and the Dolly Gray Award, among many honors. As a child, she loved dogs, salamanders, tap dancing, school, and even homework. Her favorite days were when the bookmobile came to town. She was born and raised in Greenville, South Carolina, and now lives in Asheville, North Carolina.