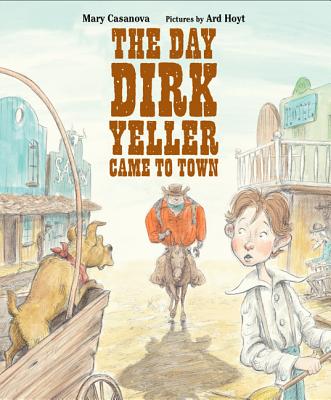 The Day Dirk Yeller Came to Town (Hardcover)
Farrar Straus Giroux, 9780374317423, 40pp.
Publication Date: May 24, 2011
Description
The day Dirk Yeller came to town, the wind curled its lip, cattle quit lowin', and tumbleweeds stopped tumblin' along. Townsfolk whispered. "He starts stampedes " "He holds up trains " "He's trouble "
When Dirk Yeller scours the town for something to stop his itchin' and twitchin' and jumpin' and rattlin', no one seems able to help. But Sam, who's been following Dirk all day--and who can sometimes be a little fidgety, too--knows the perfect solution . . .
Energetic illustrations and lively language capture the Wild West in this perfect read aloud for book lovers of all ages.
About the Author
Mary Casanova's books include the popular One-Dog Canoe and Some Dog! also illustrated by Ard Hoyt. She lives near Ranier, Minnesota. Ard Hoyt has illustrated several picture books, including the best-selling I'm a Manatee by John Lithgow. He lives in Bentonville, Arkansas.
Praise For The Day Dirk Yeller Came to Town…
"Sure to be hit at storytime, this Wild West tale will keep children laughing as it delivers its message about the power of books." –School Library Journal

"The softly colored cartoonish illustrations perfectly convey the action of the characters portrayed in the brief text." –Booklist

"Hoyt's marvelous caricatures are worth thousands of words, making this hilarious tall tale not only a plug for books and reading but an outsized winner." –Kirkus Reviews
Advertisement