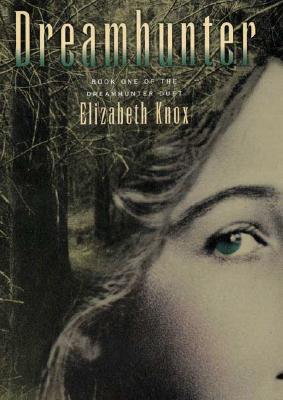 Dreamhunter (Hardcover)
Book One of the Dreamhunter Duet
Farrar, Straus and Giroux (BYR), 9780374318536, 384pp.
Publication Date: February 21, 2006
Other Editions of This Title:
Paperback (2/17/2009)
Prebound (9/29/2009)
MP3 CD (9/1/2015)
Compact Disc (4/9/2012)
Compact Disc (1/1/2010)
MP3 CD (12/1/2015)
MP3 CD (12/1/2015)
Hardcover (2/20/2007)
Pre-Recorded Audio Player (7/1/2009)
MP3 CD (4/9/2012)
MP3 CD (5/7/2012)
Compact Disc (5/7/2012)
MP3 CD (5/7/2012)
MP3 CD (4/9/2012)
Compact Disc (5/7/2012)
Compact Disc (4/9/2012)
Compact Disc (1/1/2008)
Pre-Recorded Audio Player (4/1/2009)
* Individual store prices may vary.
Description
Laura comes from a world similar to our own except for one difference: it is next to the Place, an unfathomable land that fosters dreams of every kind and is inaccessible to all but a
select few, the Dreamhunters. These are individuals with special gifts: the ability to catch larger-than-life dreams and relay them to audiences in the magnificent dream palace, the Rainbow
Opera. People travel from all around to experience the benefits of the hunters' unique visions. Now fifteen-year-old Laura and her cousin Rose, daughters of Dreamhunters, are eligible to test
themselves at the Place and find out whether they qualify for the passage. But nothing can prepare them for what they are about to discover. For within the Place lies a horrific secret kept
hidden by corrupt members of the government. And when Laura's father, the man who discovered the Place, disappears, she realizes that this secret has the power to destroy everyone she loves . . . In the midst of a fascinating landscape, Laura's dreamy childhood is ending and a nightmare beginning. This rich novel, filled with beauty, danger, politics, and intrigue, comes to a powerful crescendo, leaving readers clamoring for Book Two.
Dreamhunter is a 2007 Bank Street - Best Children's Book of the Year.
About the Author
ELIZABETH KNOX is the author of several books for adults,

including "The Vintner's Luck." This is her first novel for younger

readers. She lives in Wellington, New Zealand.
Praise For Dreamhunter: Book One of the Dreamhunter Duet…
"I didn't have a ton of time to read this summer, but I did discover one really wonderful two-book series. Dreamhunter and Dreamquake by Elizabeth Knox. It is like nothing else I've ever read. The characters are so real, you'll feel like you know exactly what they look like and how their voices sound and what they would say or do in any given situation. More than that, you'll want to hang out with them. Then the world is so amazing and unique. You will want to go there. You will want to walk into "the Place." And you will want to sleep in a dream opera." —Stephenie Meyer, author of the Twilight series

"Fascinating. Will surely lure readers back for multiple readings." --Starred, Publishers Weekly

"A lyrical, intricate and ferociously intelligent fantasy . . .Satisfies fully while pointing to the promised sequel. Provocative and compelling." --Starred, Kirkus Reviews

"Readers pining for a fantasist to rival Philip Pullman or Garth Nix may have finally found what they seek in New Zealander Knox." --Starred, Booklist
"Attention-getting."
—Chicago Tribune
"This series opener is a satisfying soap opera for young fantasy readers who enjoy intricate prose." --
VOYA
"Powerfully portrayed . . . It will appear to lovers of fantasy set in the real world, who will eagerly await the resolution in the second volume." --
School Library Journal
"Knox effectively evokes the curious intersections and distances between the ordinary, earthly world and the parched otherworldly landscape of the place." --
Bulletin of the Center for Children's Books
"Knox's writing is rich and interesting. A highly original exploration of the idea of a collective unconscious." --
The Horn Book Advance praise for
Dreamhunter:
"
Dreamhunter
will find a large and enthusiastic audience
among those who've grown up with Margaret Mahy, grown
out of Harry and Hermione, or run out of Lyra and Will
. . . Knox hits all the marks of adolescent fantasy fiction:
gifted young people, powerful but absent parents, a
mysterious place that both nurtures and threatens, a
frightening conspiracy to be unraveled en route to maturity . . . This time next year, we'll all be queuing for the sequel."
– Jolisa Gracewood,
New Zealand Listener
"Dazzlingly inventive . . . In a book that is full of tenderness
and family affection as well as presentiments of corruption
and horror, Knox beguiles with vibrantly realized detail . . .
A tantalizing feat of imaginative fiction."
– Katharine England,
Magpies
magazine(Australia)
or
Not Currently Available for Direct Purchase