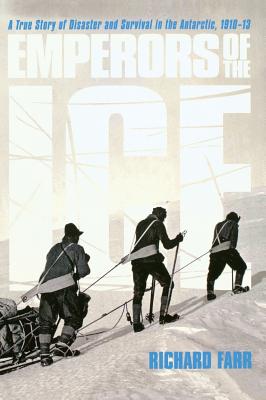 Emperors of the Ice (Hardcover)
A True Story of Disaster and Survival in the Antarctic, 1910-13
Farrar Straus Giroux, 9780374319755, 217pp.
Publication Date: September 30, 2008
Other Editions of This Title:
Compact Disc (4/20/2009)
MP3 CD (8/11/2015)
MP3 CD (4/20/2009)
MP3 CD (4/20/2009)
Compact Disc (4/20/2009)
* Individual store prices may vary.
Description
Apsley George Benet Cherry-Garrard has always dreamt of becoming an explorer. So in the spring of 1910, when Captain Robert Falcon Scott offers young "Cherry" the position of Assistant Zoologist aboard the "Terra Nova," Cherry considers himself the luckiest man alive. Cherry's luck, however, will soon change. Far off in the icy unknown of Antarctica, where temperatures plummet below 77 F, exploration is synonymous with a struggle for life. Frostbite, scurvy, hidden ice chasms, and packs of hungry killer whales are very real dangers. But even these perils don't prepare Cherry for the expedition he and two other crew members embark upon to collect the eggs of Emperor penguins. Along the way, he will face the elements head-on, risking life and limb in the name of science.

Rife with captivating details of survival in an icy wilderness, and illustrated with dozens of photographs from the actual journey, this reimagining of the famous 1910 expedition to the South Pole, told in Cherry's voice, is an unforgettable tale of courage and camaraderie.
About the Author
RICHARD FARR grew up in England and has worked as a college professor, a journalist, and a gas station attendant, among other things. He now lives in Seattle, Washington. "Emperors of the Ice" is his first book
Praise For Emperors of the Ice: A True Story of Disaster and Survival in the Antarctic, 1910-13…
"Farr's writing is engrossing and his accounts of the hardships and near-death experiences the explorers faced are harrowing . . . . This title will appeal to readers looking for an adventure story." —School Library Journal
"Based on Cherry's actual memoirs and told in first-person narrative, the story is vivid and full of action. There are poignant moments of bravery and self-sacrifice that the reader will ponder long after finishing the book . . . . Readers from middle school age to adults will find this tale of survival to be unforgettable." —VOYA

"An inspiring tale of men battling overwhelmingly brutal elements with experiemental gear, high spirits an dindomitable courage. . . . Compelling reading . . . Well supplied with contemporary photos, maps, an annotated source list, and other helpful extras. Despite its fictive voice, it makes an authoritative replacement for older titles on the expedition." —Booklist

"The extreme conditions are exciting . . . make it hard to put down." —The Seattle Times

"The heroic search for Emperor penguin eggs at Cape Crozier in 1911 is one of the greatest stories ever told, and Richard Farr is to be congratulated for recasting it so vividly. This is a wonderful book, stylishly executed." —Sara Wheeler, author of Cherry: A Life of Apsley Cherry-Garrard

"Richard Farr's re-creation of the legendary 1911 Antarctic "Winter Journey' is masterful and spell-binding. He not only takes us to the outer boundaries of human endurance, but makes us wish we had been companions of Wilson, Bowers, and Cherry-Garrard." —Jim Wickwire, author of Addicted to Danger: A Memoir about Affirming Life in the Face of Death


"Farr's research and use of journal accounts make this a rich picture of early 20th-century exploration that straddles the line between fiction and nonfiction." —Kliatt  

"It's an enthralling tale, told with marked immediacy, verve, and force of personality." —The Horn Book
or
Not Currently Available for Direct Purchase