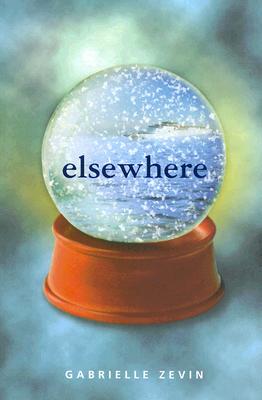 Elsewhere
Hardcover

* Individual store prices may vary.
Other Editions of This Title:
Digital Audiobook (10/10/2005)
Paperback (5/15/2007)
Prebound (5/1/2007)
Compact Disc (9/13/2005)
Description
Is it possible to grow up while getting younger?

Welcome to Elsewhere. It is warm, with a breeze, and the beaches are marvelous. It's quiet and peaceful. You can't get sick or any older. Curious to see new paintings by Picasso? Swing by one of Elsewhere's museums. Need to talk to someone about your problems? Stop by Marilyn Monroe's psychiatric practice.  Elsewhere is where fifteen-year-old Liz Hall ends up, after she has died. It is a place so like Earth, yet completely different. Here Liz will age backward from the day of her death until she becomes a baby again and returns to Earth. But Liz wants to turn sixteen, not fourteen again. She wants to get her driver's license. She wants to graduate from high school and go to college. And now that she's dead, Liz is being forced to live a life she doesn't want with a grandmother she has only just met. And it is not going well. How can Liz let go of the only life she has ever known and embrace a new one? Is it possible that a life lived in reverse is no different from a life lived forward? This moving, often funny book about grief, death, and loss will stay with the reader long after the last page is turned. Elsewhere is a 2006 Bank Street - Best Children's Book of the Year.
Praise For Elsewhere…
"Elsewhere is a funny, fast-paced, and fascinating novel. The concept is completely out there and yet the emotions are so weirdly realistic. I loved reading the story of Liz's life (death?)." -- Carolyn Mackler, author of The Earth, My Butt, and Other Big Round Things and Vegan Virgin Valentine

"A work of powerful beauty. This inventive novel slices right to the bone of human yearning, offering up an indelible vision of life and death as equally rich sides of the same coin." -- Starred, Booklist

"With an intriguing and well-developed premise, thoughtful characterization, and refreshing style, Zevin's poignant novel rewards readers with a view of death that celebrates the rich complexities of being alive." -- Starred, The Horn Book

"Intriguing. Surely guides readers through the bumpy landscape of strongly delineated characters dealing with the most difficult issue that faces all of us. Provides much to think about and discuss." -- Starred, School Library Journal

"An unusual premise and a thoughtful treatment make Zevin's first effort at writing for young adults a success. Will captivate teens ready for a thought-provoking read. Hopeful and engaging." -- Kirkus Reviews

"Funny and pensive, happy and heartbreaking. Readers from a broad range of beliefs will find this a quirky and touching exploration of the Great Beyond." -- The Bulletin of the Center for Children's Books

"Fascinating. Zevin, in her first novel for young people, bends the laws of physics and biology to create an intricately imagined world." -- Publishers Weekly

"A fun and thought-provoking page-turner. Readers ... will relish Zevin's lively imagination and her fast-moving plot. Buy this book for them." -- VOYA

"Zevin's touch is marvelously light even as she considers profundities, easily moving among humor, wisdom and lyricism. . . .No plot synopsis can convey what a rich, wise spell this book casts." -- The New York Times Book Review

"Great humor and speculation, on pets as well as people." --Chicago Tribune

"This book is amazing: centered around death without being morbid, it's about moving on with your life." --A YALSA Teen YA Galley Reader

"It's a fun read that you will keep thinking about long after you've finished the last page." --A YALSA Teen YA Galley Reader

"It's an unexpectedly 'feel good' book, and makes the reader feel like those who have died aren't ever gone." --A YALSA Teen YA Galley Reader

"This books steps out of the trend and stands on its own. What an original concept." --A YALSA Teen YA Galley Reader
Farrar, Straus and Giroux (BYR), 9780374320911, 288pp.
Publication Date: August 11, 2005
About the Author
Gabrielle Zevin is the author of award-winning books for young adults including "Memoirs of a Teenage Amnesiac," and books for adults including "The Hole We're In" and "Margarettown." She was also the screenwriter for "Conversations with Other Women," which received an Independent Spirit Award nomination. Of her writing, "The New York Times Book Review" said, "Zevin's touch is marvelously light even as she considers profundities." A dog lover and Harvard graduate, she lives in New York City.
or
Not Currently Available for Direct Purchase