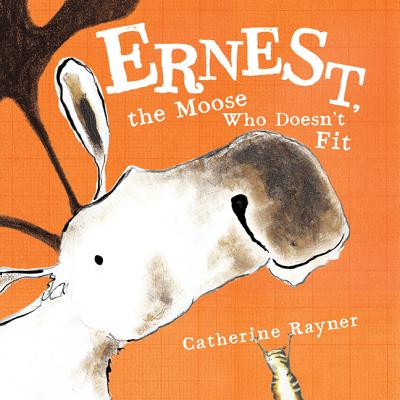 Ernest, the Moose Who Doesn't Fit (Hardcover)
Farrar Straus Giroux, 9780374322175, 32pp.
Publication Date: October 12, 2010
Description
Ernest is a rather large moose with a rather large problem. He is so big he can't fit inside his book! Luckily, Ernest is also a very determined moose, and he and his little chipmunk friend aren't going to give up easily. With some tape, odd bits of paper, and plenty of enthusiasm, the pair constructs an enormous gatefold page by themselves, and everything fits together in the end.
About the Author
CATHERINE RAYNER lives in Edinburgh, Scotland, and is the creator of several picture books, including HARRIS FINDS HIS FEET, winner of the CLIP Kate Greenaway Medal, 2009.
Praise For Ernest, the Moose Who Doesn't Fit…
"Similar in concept to last year's Big Frog Can't Fit In by Mo Willems, ERNEST, THE MOOSE WHO DOESN'T FIT centers on an animal too big for his [book] binding. . . In Catherine Rayner's work, a single chipmunk with a crafty streak helps Ernest build a fold-out page from paper scraps and masking tape. . . . The illustrations are charming." —Time Out New York Kids "Rayner captures beautifully the bulk and awkwardness of Ernest's massive body and the nervous movements of the chipmunk; even smallest children will greet their antics with giggles." —Publishers Weekly
 "The simple plot marries perfectly with the large-scale, highly tactile drawings and oversize font to create a winning book that children will beg to see and hear again and again, whether lap-sitting or in a group. Brilliant!" —School Library Journal, STARRED REVIEW
 "The language is engaging and inventive. Concepts of friendship, enterprise and collaboration all shine in this very appealing import from Scotland that should delight little (and big) listeners." —Kirkus Reviews
"Determination, problem-solving and friendship are the themes woven into the latest creation by British author-illustrator Catherine Rayner. . . . Ernest, the Moose Who Doesn't Fit captures the magic that can happen when someone is willing to think outside the box. . . . Ernest the moose is large. So large, in fact, that he can't even fit into his own book. With the aid of his buddy, a resolute chipmunk, Ernest endeavors to 'shimmy, shift and shuffle' his way onto the page. Continued maneuverings are unsuccessful, but Ernest's "little friend" has an idea. A roll of masking tape, a pile of paper and a whole lot of time lead the dogged duo to 'crinkle, crumple and stick' their way to a solution. . . .Preschool and school-aged children alike will be delighted by the ingenuity of Rayner's characters. . . .  Both children and adults feel out of place and awkward at times, and it is reassuring to imagine that with persistence we, like Ernest, can 'fit in perfectly.'" —Jennifer Robinson, BookPage
Advertisement