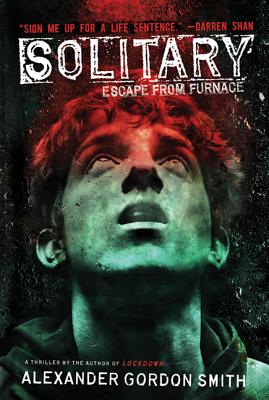 Solitary (Hardcover)
Farrar Straus Giroux, 9780374324926, 232pp.
Publication Date: December 21, 2010
Description
Alex Sawyer and his mates should have known there was no way out of Furnace Penitentiary. Their escape attempt only lands them deeper in the guts of this prison for young offenders, and then into solitary confinement. And that's where a whole new struggle begins a struggle not to let the hellish conditions overwhelm them. Because before another escape attempt is even possible, they must first survive the nightmare that now haunts their endless nights.
About the Author
Alexander Gordon Smith is the author of the Escape from Furnace series, including Lockdown. Born in 1979 in Norwich, England, he always wanted to be a writer. After experimenting in the service and retail trades for a few years, Smith decided to go to University. He studied English and American Literature at the University of East Anglia, and it was here that he first explored his love of publishing. Along with poet Luke Wright, he founded Egg Box Publishing, a groundbreaking magazine and press that promotes talented new authors. He also started writing literally hundreds of articles, short stories and books ranging from Scooby Doo comic strips to world atlases, Midsomer Murders to X-Files. The research for these projects led to countless book ideas germinating in his head. His first book, The Inventors, written with his nine-year-old brother Jamie, was published in the U.K. in 2007. He lives in England.
Praise For Solitary…
"Fast paced and packed with nail-biting scenarios… This is a dark story with a dark ending, but the gritty action and compelling characters will have reluctant readers enthralled." --School Library Journal
"Once again, Smith has created a thrill ride that will leave the audience wanting more. Smith's prose is fast paced, witty, and sometimes downright terrifying. Some of the images he creates could manifest into a nightmare or two. Teens who are looking for a great thriller/horror story will definitely want to pick up these novels. Look for the third installment in this series to debut in June of 2011." --VOYA
"Adrenaline-fueled action infuses the narrative as it did in Lockdown (2009), keeping the pages turning…the author knows what keeps his readers locked to the page and delivers it soundly." --Kirkus Reviews
 "Fresh and ferocious,
Lockdown
will hook boys with its gritty, unrelenting surprises." —
James Patterson
 "Furnace is hotter than hell and twice as much fun! Sign me up for a life sentence of Alexander Gordon Smith!"  —
Darren Shan, author of the Demonata series
 "My biggest success story last year was when a student, a 5th year senior, attended a booktalk and couldn't wait to read
Lockdown
. It was the first book he read all the way through in five years of high school. I was privileged to get the galley from a conference for
Solitary
and gave it to him. I told him to keep the book—in less than a week he returned it to me in pristine condition and wanted more."  —Librarian, Washington High School , Sioux Falls, SD
Advertisement