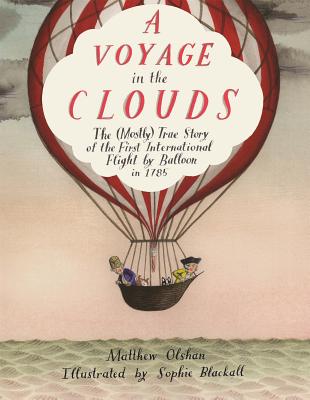 A Voyage in the Clouds (Hardcover)
The (Mostly) True Story of the First International Flight by Balloon in 1785
Farrar, Straus and Giroux (BYR), 9780374329549, 40pp.
Publication Date: October 11, 2016
* Individual store prices may vary.
Description
In the year and a half since the flight of the first manned balloon in 1783, an Italian has flown, a Scot has flown, a woman has flown, even a sheep has flown. But no one has flown from one country to another. John Jeffries, an Englishman, and his pilot, Jean-Pierre Blanchard, a Frenchman, want to be the first. On January 7, 1785, they set out to cross the English Channel to France in a balloon. All seemed to be going fine, until Jeffries decides the balloon looks too fat and adjusts the air valve—how hard could it be? Too bad he drops the wrench over the side of the aerial car. With no way to adjust the valve, the balloon begins to sink. Jeffries and Blanchard throw as much as they can overboard—until there is nothing left, not even their clothes. Luckily, they come up with a clever (and surprising) solution that saves the day. A VOYAGE IN THE CLOUDS from Matthew Olshan and Sophie Blackall is a journey that will keep kids laughing the whole way.
A Margaret Ferguson Book
About the Author
Matthew Olshan is the author of several books for young readers, including Finn, The Flown Sky, and The Mighty Lalouche. He lives in Baltimore, Maryland.

SOPHIE BLACKALL is the illustrator of Meet Wild Boars, a Bulletin of the Center for Children's Books Blue Ribbon selection. She lives in Brooklyn, New York.
Praise For A Voyage in the Clouds: The (Mostly) True Story of the First International Flight by Balloon in 1785…
"The baroque ornamentation and carefully lettered speech balloons of Blackall's spreads recall the work of George Cruikshank; like him, she has a gift for revealing that people dressed in petticoats and tricorne hats are just as human as the rest of us. With humor that's never snarky, Olshan reminds readers that, sometimes, the challenge adventurers must overcome is not the elements; it's their own vanity." —Publishers Weekly, starred review
"Blackall's witty illustrations—which include full-page art and double-page spreads in color along with occasional black-and-white comic-panel strips; word balloons; and florid ornamentation—feel plucked from the time period. An author's note directs readers to Dr. Jeffries's firsthand account of the flight and reveals that portions of the book rely on Olshan and Blackall's creative adaptation of factual events." —The Horn Book, starred review
"The illustrations vary from traditional to graphic novel-style at points, using panels and dialogue balloons. Olshan establishes suspense as the two encounter problems and danger during their voyage, and children will want to keep reading and learning more about this historic trip. An author's note discusses the true details incorporated in the story and explains the creative license taken....A delightful tale that will captivate elementary students with comedy, suspense, and beautiful illustrations." —School Library Journal, starred review
"Here's a story ripe for booktalking: a pair of bickering, cheating, dissembling adults set off from England in a hydrogen balloon and land in France in their underwear. Olshan tosses in some speculation to enliven a tale that really requires little additional embellishment, but those basic facts hold up. . .The muted colors and teardrop-shaped speech bubbles of the illustrations suggest eighteenth-century satirical cartoons, and they're as droll as Olshan's text, capturing the seriocomic perils that forced the squabbling frenemies to pull in harness together. No references are included, but an endnote on the facts and fictions herein is entertaining and useful, making this a delightful 'sequel' to Hot Air (BCCB 7/05), Marjorie Priceman's '(Mostly) True' picture-book chronicle of the Montgolfiers' flight in 1783." —The Bulletin for the Center of Children's Books, starred review
"Rarely has a story of a historic first been so silly. Olshan and Blackall together tell the somewhat fictionalized tale of American (then English) Dr. John Jeffries and French Jean-Pierre Blanchard's first international journey by balloon. . .Blackall's signature watercolor illustrations, in a vintage palette and full of old-fashioned details, amp up the levity with humorous comic strips showcasing the balloonists' over-the-top arguments, and depictions of the dogs' anguished reactions to their owners' egos." —Booklist