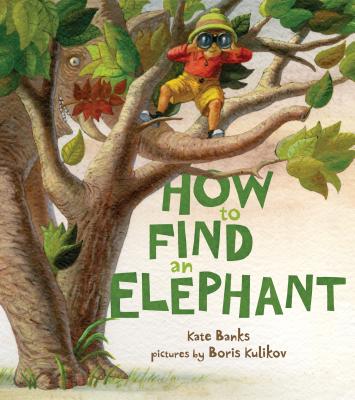 How to Find an Elephant (Hardcover)
Farrar, Straus and Giroux (BYR), 9780374335083, 32pp.
Publication Date: November 14, 2017
* Individual store prices may vary.
Description
What to do on a dull gray day? Head into the wilds and look for an elephant. You will need a pair of binoculars, a blanket, a flute, some food, a little imagination, and a lot of curiosity. Look and listen closely, because elephants can be anywhere. And watch out, because if you're not careful, the elephant may find you first! With pleasing prose and "now you see it, now you don't" artwork, Kate Banks and Boris Kulikov's How to Find an Elephant takes readers on a spirited romp that will both challenge and delight.
About the Author
Kate Banks has written many books for children, among them Max's Words, And If the Moon Could Talk, winner of the Boston Globe–Horn Book Award, and The Night Worker, winner of the Charlotte Zolotow Award. She grew up in Maine, where she and her two sisters and brother spent a lot of time outdoors, and where Banks developed an early love of reading. "I especially liked picture books," she says, "and the way in which words and illustrations could create a whole new world in which sometimes real and other times magical and unexpected things could happen." Banks attended Wellesley College and received her master's in history at Columbia University. She lived in Rome for eight years but now lives in the South of France with her husband and two sons, Peter Anton and Maximilian.
Boris Kulikov
is the critically acclaimed illustrator of many children's books. His work includes
Papa's Mechanical Fish
by Candace Fleming;
W is for Webster
by Tracey Fern; and the Max's Math series, written by Kate Banks.He lives in Brooklyn, New York.
Praise For How to Find an Elephant…
"Readers can spot the grinning creature throughout, whimsically camouflaged into lush paintings that blend fantasy and reality . . . Forget about the elephant in the room—the one in your imagination is a lot more fun." —Publishers Weekly, starred review
"The text gives pointers on elephant-spotting, while the sophisticated, textural artwork allows young readers to spot elephants that the obedient, fictional child does not see . . . Another tribute to imagination from highly creative partners." —Kirkus Reviews
"Kulikov's colorful and playful mixed-media illustrations are a joy to peruse. With an elephant skillfully camouflaged on every page, adults and children will take delight in finding and pointing it out." —Booklist