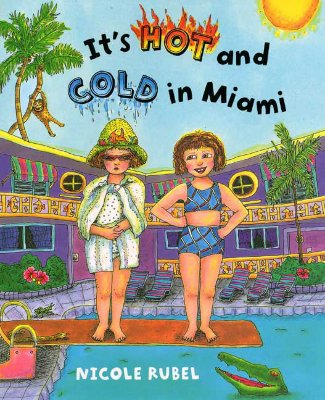 It's Hot and Cold in Miami (Hardcover)
Farrar, Straus and Giroux (BYR), 9780374336110, 208pp.
Publication Date: April 18, 2006
* Individual store prices may vary.
Description
Rachel has theories about a lot of things – how she ended up
with humongous beaver teeth, why tourists who visit Miami
wear such ugly clothes, and why her father loves her identical
twin sister, Rebecca, the most. Still, there are many things in
Rachel's life that even her best theories can't really explain.
Why, for instance, does her grandmother insist on feeding her
honey cake every Sunday, when everyone knows it tastes
disgusting? Why did Rachel end up with the most ancient fifthgrade
teacher in the school, a woman with amoeba-shaped
stains under her arms? And why is Rachel always in trouble,
unlike Rebecca?
In humor-filled prose and pictures, Nicole Rubel introduces us
to a remarkably off-the-wall family – a father who sells novelty
maracas for a living, a mother who is so gorgeous even
orangutans fall in love with her, a sister who is a perfect genius,
and scattered Rachel – struggling to find her unique talent and
self-confidence.
Praise For It's Hot and Cold in Miami…
"Told from the perspective of an empathetic underdog. Rubel. . . has created a lovable if not endearing character." --Kirkus Reviews "Rachel's candid, child's-eye view of her flawed family is perfectly reflected in Rubel's astute drawings." --The Horn Book "Rubel's narrative and her distinctive illustrations capture the details that make Rachel's daily adventures so appealing." --Booklist "Readers will appreciate this lively protagonist whose solutions to various problems are not always smart but are always creative." --The Bulletin of the Center for Children's Books
or
Not Currently Available for Direct Purchase