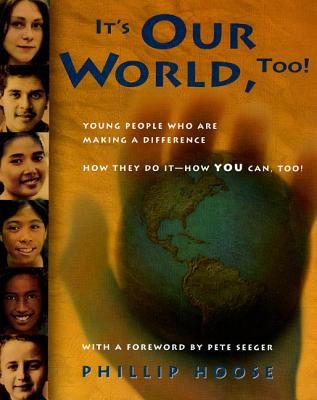 It's Our World, Too! (Paperback)
Young People Who Are Making a Difference - How They Do It, and How You Can, Too!
Square Fish, 9780374336226, 176pp.
Publication Date: September 25, 2002
* Individual store prices may vary.
Description
It's Our World, Too is the invaluable companion to the award-winning We Were There, Too!: Young People in U.S. History. The book gives young readers the tools to bring about change. Many young people are seeking out ways to become constructively engaged in their world. This book couldn't be more timely.
"Two books in one: first, fourteen fascinating accounts of children working for human rights, the needy, the environment, or world peace . . . Second, a handbook for young activists, with practical suggestions for planning, organizing, publicizing, and raising funds for social action projects." -- Kirkus Reviews
About the Author
Phillip Hoose is an award-winning author of books, essays, stories, songs and articles. Although he first wrote for adults, he turned his attention to children and young adults in part to keep up with his own daughters. His book Claudette Colvin won a National Book Award and was dubbed a Publisher's Weekly Best Book of 2009. He is also the author of Hey, Little Ant, co-authored by his daughter, Hannah; It's Our World, Too!; The Race to Save the Lord God Bird; The Boys Who Challenged Hitler; and We Were There, Too!, a National Book Award finalist. He has received a Jane Addams Children's Book Award, a Christopher Award, a Boston Globe-Horn Book Award, and multiple Robert F. Sibert Honor Awards, among numerous honors. He was born in South Bend, Indiana, and grew up in the towns of South Bend, Angola, and Speedway, Indiana. He was educated at Indiana University and the Yale School of Forestry. He lives in Portland, Maine.
Praise For It's Our World, Too!: Young People Who Are Making a Difference - How They Do It, and How You Can, Too!…
"Deserves shelf space in every classroom and library." —Starred, Publishers Weekly
"Two books in one: first, fourteen fascinating accounts of children working for human rights, the needy, the environment, or world peace . . . Second, a handbook for young activists, with practical suggestions for planning, organizing, publicizing, and raising funds for social action projects." —Kirkus Reviews
"An invaluable book . . . Reads with intensity and should convince young readers that they can make a difference in the attitudes and policies of their world." —Boxed, Booklist
"A clear-headed, good-hearted guide to help young people empower themselves." —Gloria Steinem