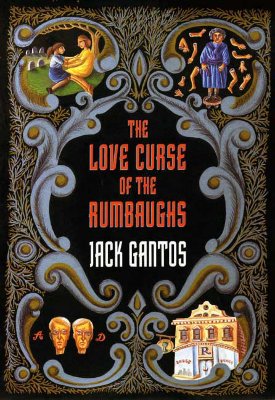 The Love Curse of the Rumbaughs (Hardcover)
Farrar, Straus and Giroux (BYR), 9780374336905, 192pp.
Publication Date: April 18, 2006
Other Editions of This Title:
Paperback (6/24/2008)
Compact Disc (5/23/2006)
* Individual store prices may vary.
Description
On an unseasonably warm Easter Sunday, a young girl named
Ivy discovers a chilling secret in the basement of the Rumbaugh
pharmacy across the street from the hotel where she lives with
her mother. The discovery reveals a disturbing side to the
eccentric lives of family friends Abner and Adolph Rumbaugh,
known throughout their small western Pennsylvania town
simply as the Twins. It seems that Ab and Dolph have been
compelled by a powerful mutual love for their deceased mother
to do something extraordinary, something that in its own
twisted way bridges the gap between the living and the dead.
Immediately, Ivy's discovery provokes the revelation of a
Rumbaugh family curse, a curse that, as Ivy will learn over the
coming years, holds a strange power over herself and her own
mother.

In his third book for young adults, Jack Gantos has scripted a
completely original drama. With gothic flavor and black humor,
he depicts a group of people bound together by love,
compulsion . . . and a passion for taxidermy.
About the Author
Jack Gantos has written books for people of all ages, from picture books and middle-grade fiction to novels for young adults and adults. His works include "Hole in My Life," a memoir that won the Michael L. Printz and Robert F. Sibert Honors, "Joey Pigza Swallowed the Key," a National Book Award Finalist, "Joey Pigza Loses Control," a Newbery Honor book, and "Dead End in Norvelt," winner of the Newbery Medal and the Scott O'Dell Award for Historical Fiction. Jack was raised in Norvelt, Pennsylvania, and when he was seven, his family moved to Barbados. He attended British schools, where there was much emphasis on reading and writing, and teachers made learning a lot of fun. When the family moved to south Florida, he found his new classmates uninterested in their studies, and his teachers spent most of their time disciplining students. Jack retreated to an abandoned bookmobile (three flat tires and empty of books) parked out behind the sandy ball field, and read for most of the day. The seeds for Jack's writing career were planted in sixth grade, when he read his sister's diary and decided he could write better than she could. He begged his mother for a diary and began to collect anecdotes he overheard at school, mostly from standing outside the teachers' lounge and listening to their lunchtime conversations. Later, he incorporated many of these anecdotes into stories. While in college, he and an illustrator friend, Nicole Rubel, began working on picture books. After a series of well-deserved rejections, they published their first book, "Rotten Ralph," in 1976. It was a success and the beginning of Jack's career as a professional writer. Jack continued to write children's books and began to teach courses in children's book writing and children's literature. He developed the master's degree program in children's book writing at Emerson College and the Vermont College M.F.A. program for children's book writers. He now devotes his time to writing books and educational speaking. He lives with his family in Boston, Massachusetts.
Praise For The Love Curse of the Rumbaughs…
"A totally engaging, intelligently written work . . . this one will linger in one's darkest corners." --Starred, Kirkus Reviews "A shocking, darkly comic tale."--Boxed, Booklist "Eerie. This thought-provoking story about free will and the arguments of nature and nurture will definitely stick with readers." --School Library Journal "This offbeat novel, reflecting elements of Psycho and Faulkner's "A Rose for Emily," draws readers into a macabre world where taboos are lifted and unconventional desires unleashed." --Publishers Weekly "Few other books offer such a combination of stylization verging on the comic and a true fascination with the Gothic's exploration of human minds." --Chicago Tribune "The wonderful and compelling strangeness will . . . draw many readers, especially fans of silver-screen or classic literary Gothic." --The Bulletin of the Center for Children's Books "Compelling." --The Horn Book
or
Not Currently Available for Direct Purchase