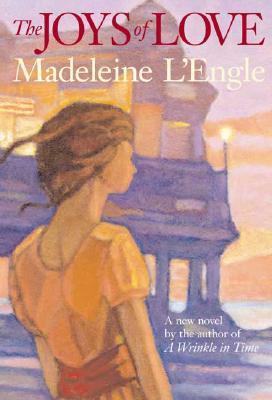 The Joys of Love (Hardcover)
Farrar, Straus and Giroux (BYR), 9780374338701, 272pp.
Publication Date: April 29, 2008
* Individual store prices may vary.
or
Not Currently Available for Direct Purchase
Description
During the summer of 1946, twenty-year-old Elizabeth is doing what she has dreamed of since she was a little girl: working in the theatre. Elizabeth is passionate about her work and determined to learn all she can at the summer theatre company on the sea where she is an apprentice actress. She's never felt so alive. And soon she finds another passion: Kurt Canitz, the dashing young director of the company, and the first man Elizabeth's ever kissed who has really meant something to her. Then Elizabeth's perfect summer is profoundly shaken when Kurt turns out not to be the kind of man she thought he was.
Moving and romantic, this coming-of-age story was written during the 1940s. As revealed in an introduction by the author's granddaughter Lena Roy, the protagonist Elizabeth is close to an autobiographical portrait of L'Engle herself as a young woman--"vibrant, vulnerable, and yearning for love and all that life has to offer.
About the Author
Madeleine L'Engle (1918-2007) was the Newbery Medal-winning author of more than 60 books, including the much-loved "A Wrinkle in Time." Born in 1918, L'Engle grew up in New York City, Switzerland, South Carolina and Massachusetts. Her father was a reporter and her mother had studied to be a pianist, and their house was always full of musicians and theater people. L'Engle graduated cum laude from Smith College, then returned to New York to work in the theater. While touring with a play, she wrote her first book, "The Small Rain," originally published in 1945. She met her future husband, Hugh Franklin, when they both appeared in "The Cherry Orchard." Upon becoming Mrs. Franklin, L'Engle gave up the stage in favor of the typewriter. In the years her three children were growing up, she wrote four more novels. Hugh Franklin temporarily retired from the theater, and the family moved to western Connecticut and for ten years ran a general store. Her book "Meet the Austins," an American Library Association Notable Children's Book of 1960, was based on this experience. Her science fantasy classic "A Wrinkle in Time" was awarded the 1963 Newbery Medal. Two companion novels, "A Wind in the Door" and "A Swiftly Tilting Planet" (a Newbery Honor book), complete what has come to be known as The Time Trilogy, a series that continues to grow in popularity with a new generation of readers. Her 1980 book "A Ring of Endless Light" won the Newbery Honor. L'Engle passed away in 2007 in Litchfield, Connecticut.
Praise For The Joys of Love…
"The Joys of Love [is] a story of first love and the romance of the theater. Written in the early '40s by Madeleine L'Engle (author of A Wrinkle in Time), who died last year, the book has been published for the first time thanks to the efforts of her granddaughters." —Parade magazine, a Kids Summer Reading 2008 pick "Ardent fans [will be]. . . grateful for a last chance to dip into something new by the author." —The Christian Science Monitor "L'Engle completists will be interested in this early (1940s) and heretofore unpublished novel about a young and idealistic actress's apprenticeship in summer theater. The writing is earnest and emotional." —The Horn Book "Teens...will warm to the author's characteristic, slice-to-the-heart expressions of emotion, while the realistic portrayal of the summer-stock theater scene will draw aspiring actors." —Booklist "It will . . . interest readers who want to know more about the author of the groundbreaking A Wrinkle in Time, especially because in an introduction by L'Engle's granddauther Léna Roy identifies it as semiautobiographical." —Publishers Weekly "L'Engle revisits her own theater experiences at the beach in the 1940s, making this novel's salty breezes, musty shared quarters, and boardwalk burgers vivid." —School Library Journal "A joy indeed." —Kirkus Reviews

"Written for her grandchildren, and published posthumously, Madeleine L'Engle has given us a young adult novel set in the 1940s. Twenty-year-old Elizabeth is working in a summer theater, where she faces the complexities of a first intense crush. Elizabeth is an absolutely endearing character and you just want everything to be the best for her."
—Caitlin Doggart, Where the Sidewalk Ends, Chatham, MA
"The characters are well drawn, and L'Engle deftly draws the reader into the stories." —
TeensReadToo.com


"The Joys of Love is a story about love, self-image, and coming of age. It is a delicately woven drama that I enjoyed immensely and would suggest to any reader!" —Zoe, 12 years old, Stone Soup Magazine
"I loved this book! This is the kind of book that you read on a rainy afternoon, and when you're done, you feel satisfied." —A YALSA YA Galley Teen Reader "I liked reading a sweet clean romance." —A YALSA YA Galley Teen Reader "It's a great story about the theatre, love , and staying strong when faced with obstacles."—A YALSA YA Galley Teen Reader "This book is a really amazing book with a very deep main character."—A YALSA YA Galley Teen Reader "Curl up on a porch swing or stretch out under the shade of a tree with this summer romance that will carry you back to the 1940s seaside." —Harry W. Schwartz Bookshop, Brookfield store
Advertisement