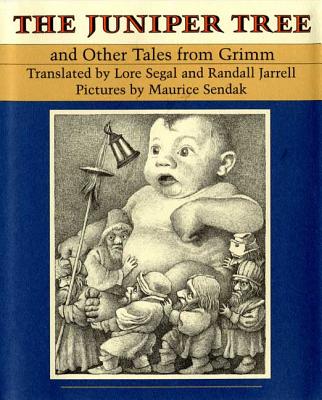 The Juniper Tree (Hardcover)
And Other Tales from Grimm
Farrar, Straus and Giroux (BYR), 9780374339715, 352pp.
Publication Date: October 15, 2003
Other Editions of This Title:
Paperback (1/1/1983)
* Individual store prices may vary.
Description
Back in Print!
Originally published as a two-volume set forty years ago, The Juniper Tree is distinguished first by the selection of stories. Lore Segal and Maurice Sendak jointly culled 27 from the 210 in the complete collection, and their contents page presents a fascinating critical statement. The translations are another distinguishing quality of the Segal/Sendak edition. Both translators have been painstakingly faithful to the German texts; they have not cut, "retold," or bowdlerized. In addition, Segal and Jarrell bring to their renderings of Grimm the grace and precision that are characteristic of their own original prose.
· One of the most acclaimed Grimm collections published in English, available again
· An elegant, must-have edition for every home library
· New lower-price of $19.99, formerly $28.00
· Includes standards such as "Hansel and Gretel," "The Fisherman and His Wife," and "The Frog King" as well as lesser-known masterpieces such as the title story and "The Goblins"
· Each story contains a full-page picture by Maurice Sendak
· Four stories translated by Jarrell, the rest by Segal
About the Author
Maurice Sendak
(1928-2012) was the author and illustrator of such classic children's books as
Where the Wild Things Are
and
In the Night Kitchen
. Widely considered one of the most innovative creators of children's literature, he received honors including the Caldecott Medal, the Hans Christian Andersen Medal, the Laura Ingalls Wilder Award, and the National Medal of Arts. Sendak was born in Brooklyn in 1928 and died in Connecticut in 2012.
Jacob Ludwig Carl Grimm
, is best known as the author of the monumental
German Dictionary
, his
Deutsche Mythologie
and more popularly, as one of the Brothers Grimm, as the editor of
Grimm's Fairy Tales
.
Lore Segal has written numerous books for young readers, including Tell Me a Mitzi and, most recently, Morris the Artist. She lives in New York City.
WILHELM GRIMM
(1786–1859) was a German author, linguist, and folklorist who, along with his older brother, Jakob, published
Children's and Household Tales
in 1812. Popularly known as
Grimms' Fairy Tales
, this collection was continually revised by the brothers and ultimately included 210 folk tales, among them many that have become famous around the world.
Randall Jarrell,
born in 1914 in Nashville, Tennessee, was a prolific and widely respected poet, critic, translator, and fiction writer. A friend and contemporary to Elizabeth Bishop and Robert Lowell, Jarrell received the National Book Award (amid other honors) for his verse. He also served as U.S. Poet Laureate. Jarrell died in Chapel Hill, North Carolina, in 1965.
Praise For The Juniper Tree: And Other Tales from Grimm…
"A work of art, a work of love, a collector's item." —Chicago Tribune Book World
"Maurice Sendak has drawn what must be some of his finest pictures for this book . . . The Juniper Tree returns Grimm to the whole family." —The Boston Globe
"[Segal and Sendak] favor the odd, the pungent, the ambiguous; their Grimm has a salty, unfamiliar taste . . . Segal's translations achieve the spoken quality the Grimms aimed for . . . Sendak's drawings are monumental, hypnotic . . . I only wish the Segal-Sendak Grimm had existed when I was young." —Walter Clemons, Newsweek
"[An] uncommon collection of 27 folktales--among them the strangest, most grotesque, mysterious and haunting in Grimm. The pictures are superb, and come from the darker, stranger side of [Sendak's] genius." —The New York Times Book Review
"The abiding value of the Segal/Sendak collection is that it can be read over and over, and each time one will discover a sparkling mot juste that Mrs. Segal has implanted in the text, and each time the study of Mr. Sendak's drawings will show forth a felicity not seen before. These two geniuses soar and dance together in the empyrean." —The New Yorker
"time one will discover a sparkling mot juste that Mrs. Segal has implanted in the text, and each time the study of Mr. Sendak's drawings will show forth a felicity not seen before. These two geniuses soar and dance together in the empyrean." —The New Yorker
or
Not Currently Available for Direct Purchase