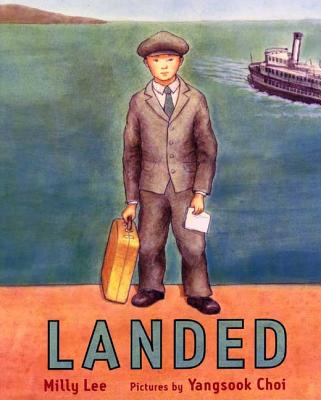 Landed (Hardcover)
Farrar Straus Giroux, 9780374343149, 38pp.
Publication Date: February 21, 2006
Description
Sun is ready to leave his village in China for America, the
place known as Gum Saan, Gold Mountain. His father warns
him, though, that passage will not be easy. Because of the 1882
Chinese Exclusion Act, new immigrants like Sun are detained
at Angel Island until they are called to take a difficult oral
exam before they can "land" leave Angel Island and go
ashore. On the boat, Sun had studied maps of his village and
memorized facts about his ancestors. But as the weeks pass in
detainment, the map's compass points swirl in his memory, and
Sun worries that he will lose his direction and be turned away.
The oil paintings are rich with historical details in this vivid
recounting, based on the author's father-in-law's experiences, of
a disturbing chapter in Chinese American history.
About the Author
MILLY LEE is the author of Earthquake (see page 49), alsoillustrated by Yangsook Choi. She grew up in San Francisco'sChinatown and lives in Santa Rosa, California. YANGSOOKCHOI has written and illustrated many books for children, including Peach Heaven. She lives in New York City.
Praise For Landed…
"Told with quiet restraint. But the tension is always there, and Choi's beautiful, full-page line-and-watercolor paintings, in sepia tones and shades of green, are quiet and packed with feeling." -- Starred, Booklist
"Choi's soft illustrations. . . capture the spirit of the time with beautiful visual detail.  This is a significant book."--School Library Journal "This testament to the pull of "Gold Mountain" offers a bit of Chinese-American history in a handsome package."  --Kirkus Reviews "Provides a rare glimpse into the challenges posed for Chinese immigrants in the early 20th century."  --Publishers Weekly "Choi's lovely, somber, full-page watercolors and Lee's quiet narrative. . .put a human face on the great abstraction of immigration."  --Washington Post Book World "Ellis Island may be well known to most schoolchildren, but its West Coast cousin is finally getting the attention it deserves."  --The Bulletin for the Center of Children's Books
Advertisement