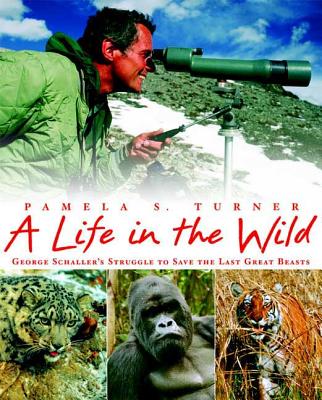 A Life in the Wild
George Schaller's Struggle to Save the Last Great Beasts
Hardcover

* Individual store prices may vary.
Description
For more than fifty years, explorer-naturalist George Schaller has been on a mission: to save the world's great wild beasts and their environments. In this compelling biography, illustrated with Schaller's own striking photographs, Pamela S. Turner examines the amazing life and groundbreaking work of the man International Wildlife calls "the world's foremost field biologist." Schaller's landmark research revolutionalized field biology, demonstrating that it is possible to study dangerous animals in their own habitats: mountain gorillas in Central Africa, predatory tigers in India, mysterious snow leopards in the Himalayas, and many others. His insights about species and environment led him to successfully advocate for the protection of over 190,000 square miles of wilderness around the world – an area the size of Spain.
Packed with grand adventure, intriguing science, dramatic photographs, and Schaller's own breathtaking descriptions of the natural world and the animals who live in it, this full-color biography brilliantly captures the spirit and passion of George Schaller's unusual – and inspiring – life in the wild.
Praise For A Life in the Wild: George Schaller's Struggle to Save the Last Great Beasts…
"Although Turner covers a lot of ground, including some fascinating behavioral science, she also tells the stories of individual animals." —Natural History Magazine
"Turner's stirring portrait spotlights a scientist's invaluable contributions to animal study; the gritty, thrilling particulars of fieldwork; and the urgent necessity to protect wild creatures and their habitats." —Starred, Booklist
"Taking young readers to the ends of the earth . . . Pamela S. Turner offers an absorbing introduction to a scientist in the field--and in the savannah, the forest, the mountains and any other remote animal habitat you can think of." —Washington Post Book World
"A Life in the Wild can obviously be used as an enrichment book, but it is far more than that . . .this is a wonderful book for kids to read to see that science is definitely not all done by Einstein-like caricatures in some messy lab." —National Science Teachers Association (NSTA.org)
"Pamela S. Turner's A Life in the Wild is the only biography written for children (ages 10 and up) about this man on a mission." —Wildlife Conservation Magazine
"Turner neatly blends lively accounts of Schaller's life in various wildernesses with wife and kids with more serious discussion of his work and seminal discoveries about animal behavior." —Bulletin of the Center for Children's Books
"The writing is both clear and lively." —School Library Journal
"This introduction to an environmental hero, the first for young readers, is timely and inspiring, and the endmatter appropriately includes suggestions for reader involvement in conservation activities. " —Starred, Kirkus Reviews
"Animal lovers and conservation-minded students will enjoy this excellent introduction to Schaller and his ideas. " —VOYA
Farrar, Straus and Giroux (BYR), 9780374345785, 112pp.
Publication Date: October 28, 2008
About the Author
The first thing I can remember wanting to be is a children's book writer and illustrator. I went through sketchbooks so fast my mother bought me rolls of shelf paper to draw on, and I remember being scolded for bringing books to the dinner table. When my parents made me turn off my bedside lamp at the end of every evening, I would read by the tiny red light on the temperature control for my electric blanket. I grew up in Riverside—a rather hot part of southern California. I was forced to sweat through many books, and not just because I was worried about the hero or heroine.
When I was in college I spent a year in Nairobi, Kenya, as an exchange student. I didn't know much about Africa before I left, but I knew it had lots of wildlife. I traveled throughout East and Central Africa and saw lions, elephants, gorillas, Cape buffalo, and many other animals. I met my future husband, Rob, in Kenya. He was an exchange student from the University of California–Berkeley. We both loved living in another country.
I have a B.A. in social science from the University of California–Irvine, and a Master of Public Health from the University of California–Berkeley. I've worked as a legislative assistant for foreign affairs for a California congressman and as an international health consultant. Over the years, Rob and I lived in the Marshall Islands, South Africa, the Philippines, and Japan. We have three children, Travis, Kelsey, and Connor. Each of them was born in a different country.
We now live in Oakland, California. When I write I am ably kept company by my yellow Labrador retriever, Genki, and my son Connor's cockapoo, Tux. They sometimes respond to "sit." They always respond to "cookie." I also have an Australian White's tree frog named Dumpy F. Lumpy who responds to nothing except juicy crickets.
or
Not Currently Available for Direct Purchase