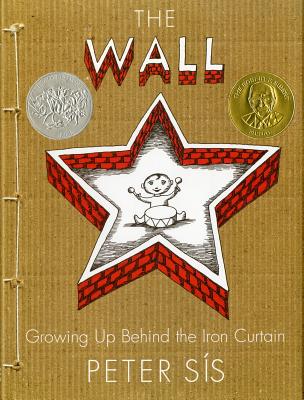 The Wall (Hardcover)
Growing Up Behind the Iron Curtain
Farrar Straus Giroux, 9780374347017, 56pp.
Publication Date: August 21, 2007
Description
A NEW YORK TIMES BEST SELLER
"I was born at the beginning of it all, on the Red side--the Communist side--of the Iron Curtain." Through annotated illustrations, journals, maps, and dreamscapes, Peter Sis shows what life was like for a child who loved to draw, proudly wore the red scarf of a Young Pioneer, stood guard at the giant statue of Stalin, and believed whatever he was told to believe. But adolescence brought questions. Cracks began to appear in the Iron Curtain, and news from the West slowly filtered into the country. Sis learned about beat poetry, rock 'n' roll, blue jeans, and Coca-Cola. He let his hair grow long, secretly read banned books, and joined a rock band. Then came the Prague Spring of 1968, and for a teenager who wanted to see the world and meet the Beatles, this was a magical time. It was short-lived, however, brought to a sudden and brutal end by the Soviet-led invasion. But this brief flowering had provided a glimpse of new possibilities--creativity could be discouraged but not easily killed.
By joining memory and history, Sis takes us on his extraordinary journey: from infant with paintbrush in hand to young man borne aloft by the wings of his art. This title has Common Core connections.
The Wall is a 2007 New York Times Book Review Best Illustrated Book of the Year, a 2008 Caldecott Honor Book, a 2008 Bank Street - Best Children's Book of the Year, the winner of the 2008 Boston Globe - Horn Book Award for Nonfiction, and a nominee for the 2008 Eisner Award for Best Publication for Kids.
About the Author
PETER SIS, a MacArthur Fellow and internationally renowned artist, received Caldecott Honors for Starry Messenger: Galileo Galilei and Tibet Through the Red Box. He has lived in and around New York City since 1984.
Praise For The Wall: Growing Up Behind the Iron Curtain…
"The ecstatic energy and big-spirited inventiveness of the artist's drawings make the once all but unimaginable realization of that dream visible for all to see." —The New York Times Book Review
"Sís' most ambitious and personal book." —USA TODAY
"A sophisticated and sobering picture book exposé."—The San Francisco Chronicle
"The Wall makes for irresistible reading."—
Washington Post Book World
"Mr. Sís's account belongs as much in the living room as it does in the nursery."—The Wall Street Journal
"Peter Sís [is a] master of the not-necessarily-for-children picture book."
—The Los Angeles Times Book Review
 "Peter Sís's
The Wall...
may be his finest book to date - no small feat. "
—The Boston Globe
 "Glorious artwork."
—Elle
 "Will both engross and haunt his audience."
—Starred, The Bulletin of the Center for Children's Books
  "Complex, multifaceted, rich in detail . . . [Sís's] concluding visions of freedom are both poignant and exhilarating."—
Starred, School Library Journal
 "A masterpiece for readers young and old."—
Starred, Kirkus Reviews
 "Younger readers have not yet had a graphic memoir with the power of
Maus
or
Persepolis
to call their own, but they do now."—
Starred, Publishers Weekly
 "The deployment of media choices and color throughout the book is both expert and telling: bold, stark black marker for an invading Soviet tank, dreamy blue crayon for the night the Beach Boys played Prague . . . a comprehensive portrait of an era, an artist, and the persistence of the latter in the face of the former."
—Starred, The Horn Book
  "A powerful combination of graphic novel and picture book . . . Terrific design dramatizes the conflict between conformity and creative freedom."
—Starred, Booklist
 "Simply and effectively illustrates the history of Czechoslovakia's struggle with totalitarianism and evokes the dreams of his repressed people."—
VOYA
 "This stunning book is a MUST for anybody who is curious to learn about the world we live in!"
—Milos Forman, Oscar winning-director of Amadeus, One Flew Over the Cuckoo's Nest
 

 "Peter Sís's book is most of all about the will to live one's life in freedom and should be required reading for all those who take their freedom for granted."
 —Václav Havel, former president of the Czech Republic
  

"Peter Sís, who has entranced children and adults with his magical stories and drawings, has taken his talent to a new level. Peter, born to dream and draw, is now also teaching the tragic history of his native Czechoslovakia under communism in this beautiful, poignant, and important work for those of all ages."
—Madeleine Albright, former U.S. Secretary of State

 "This extraordinary achievement is a powerful reminder of the hard-won freedoms that drew so many to this country's shores."
—Shelf Awareness
Advertisement