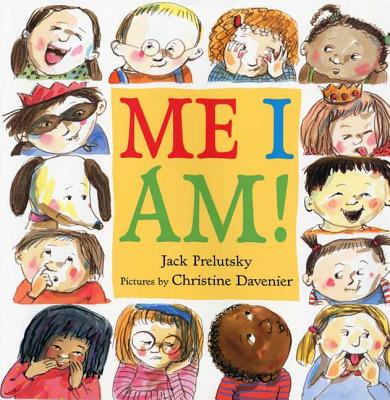 Me I Am! (Hardcover)
Farrar, Straus and Giroux (BYR), 9780374349028, 32pp.
Publication Date: April 17, 2007
* Individual store prices may vary.
Description
I am the only ME I AM
who qualifies as me;
no ME I AM has been before,
and none will ever be.
Three very different children reveal their individual personalities in a series of visual mini-adventures. Readers meet a mischievous tomboy who would rather roller-skate than wear a frilly dress, an inquisitive nature-loving boy, and an artistic ballerina who puts her own spin on Swan Lake. Finally, in a wild and funny climax, the three collide – only to discover a world full of unique and special "ME's."
With exuberant art and gleeful verse, this empowering celebration of individuality and diversity is just right for any young child discovering his or her own self – and the fun of being ME!
About the Author
JACK PRELUTSKY's award-winning poetry has been delighting children for decades and he is the Poetry Foundation's first Children's Poet Laureate. He lives in Seattle, Washington.
As a young girl growing up in Tours, France, Christine Davenier loved listening to her older sister read fairy tales aloud. But she frequently found herself wondering, What does the princess's beautiful dress look like? or How exquisite are her jewels? Christine was left to her own imagination, for the books had few illustrations. So it comes as little surprise that today, Christine embraces her career as an illustrator. "I'm thrilled to have the opportunity to create the illustrations I dreamed about seeing as a child," she says.
When Christine was fourteen, she received her first box of watercolor paints, a gift from her grandmother. That was the beginning of many afternoons spent painting together in her grandmother's garden. "My grandmother was an extraordinary woman," Christine says. "Even though she worked in an office all her life, she was an artist through and through. She shared everything she knew about color—in painting and in life. Her wisdom and talent still inspire me today."
She has illustrated many picture books, including Sally Jean, the Bicycle Queen by Cari Best. She lives in Paris, France.
Praise For Me I Am!…
"Spinning off a lovable, previously published poem by Prelutsky, Davenier illustrates the same several verses three times, with each iteration gaining power and meaning through depictions of three distinct children." —Starred, Booklist
"A celebration of creativity." —Publishers Weekly
"Cheerful." —Kirkus Reviews
"The poem comes alive with a freshness that honors children on the road to self-discovery and exuberantly celebrates the differences that make them who they are." —School Library Journal