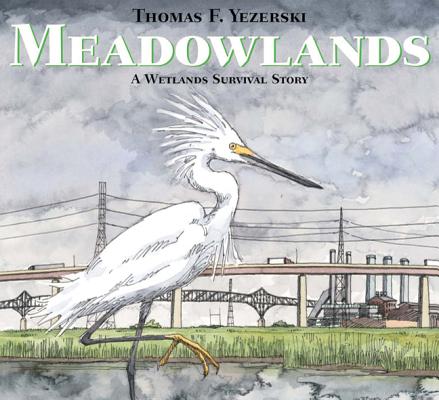 Meadowlands (Hardcover)
Farrar, Straus and Giroux (Byr), 9780374349134, 40pp.
Publication Date: March 1, 2011
Description
A "New York Times "Notable Children's Book for 2011
One of "Horn Book"'s Best Nonfiction Books of 2011
The 20,000 acres of wetlands in New Jersey now known as the Meadowlands were once home to hundreds of species of plants and animals. But in the four hundred years since European explorers first arrived in the Meadowlands, people have dammed up, drained, built over, and polluted this formerly vibrant ecosystem and all but destroyed it. Still, signs of life remain under bridges, on the edges of parking lots, and beside train tracks. Slowly but surely, with help from activist groups, government organizations, and ordinary people, the resilient creatures of the Meadowlands are making a comeback, and the wetlands are recovering.
About the Author
Thomas F. Yezerski lived on the edge of the Meadowlands for twelve years. He walked, ran, drove, bussed, trained, and canoed its strange landscapes to make sense of it, and then wrote this story out of love for it. He is the author and/or illustrator of several children's books, including Mrs. Muddle's Holidays by Laura F. Nielsen, which Kirkus Reviews praised in a starred review, saying "Yezerski's pen-and-ink watercolors are bright, warm and festive." He lives in Hoboken, New Jersey.
Praise For Meadowlands…
"The wetlands have retained their power to regenerate, a process that the book's beautiful watercolors bring to vivid life." –Los Angeles Times

"Yezerski not only can write a book on how to teach children about their environmental impact — he has." –New York Times.com


"Thomas Yezerski's pleasingly presented history of this "flat, wet place in New Jersey" helps all of us see the workings of an estuary, spongy ground where a freshwater river meets the ocean tides." –Chicago Tribune


"Thanks to picture books like Yezerski's, young readers can appreciate the complexity of an ecosystem in their own neighborhood." –The Sacramento Bee

"Judicious ink and watercolor illustrations pair with tender prose …Yezerski paints a vivid history of the place where the Hackensack River meets Newark Bay, and where the Lenni Lenape lived for thousands of years…The healthy commingling of urban and natural worlds in the final spreads makes this portrait especially poignant." –Starred, Publishers Weekly

"Although readers who know the Meadowlands personally will have a special interest in the topic, the idea of fostering and protecting plant and animal habitats in urban environments can resonate with a broad audience." –Starred, School Library Journal

"Yezerski adroitly captures the tensions and hope in the sometimes adversarial, sometimes beneficial relationship between humans and the environment in this marvelous ecological history of the Meadowlands of New Jersey, an estuary trapped in a dense industrial, commercial, and residential area." –Starred, Horn Book

"Along with the portraits of active conservationists, including young people, who are working to protect the environment, the close-up views of the interconnectedness of each small creature will grab readers." –Booklist

"A spectacular offering." –Kirkus Reviews

"The text handily covers the particulars, but keen, patient observers can "read" the ecological story through the illustrations alone." –Bulletin of the Center for Children's Books

"This is a book they sit a long time with, examining the tiny drawings with care and interest.  I used this book with great success as a classroom read aloud and the teacher reported that the book got constant traffic for independent reading after that." --Bookends, Booklist blog
Advertisement