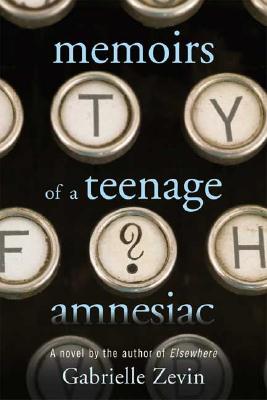 Memoirs of a Teenage Amnesiac (Hardcover)
Farrar, Straus and Giroux (BYR), 9780374349462, 288pp.
Publication Date: August 21, 2007
* Individual store prices may vary.
or
Not Currently Available for Direct Purchase
Description
If Naomi had picked tails, she would have won the coin toss. She wouldn't have had to go back for the yearbook camera, and she wouldn't have hit her head on the steps. She wouldn't have woken up in an ambulance with amnesia. She certainly would have remembered her boyfriend, Ace. She might even have remembered why she fell in love with him in the first place. She would understand why her best friend, Will, keeps calling her "Chief." She'd know about her mom's new family. She'd know about her dad's fiancee. She never would have met James, the boy with the questionable past and the even fuzzier future, who tells her he once wanted to kiss her. She wouldn't have wanted to kiss him back.
But Naomi picked heads.
After her remarkable debut, Gabrielle Zevin has crafted an imaginative second novel all about love and second chances.
"Memoirs of a Teenage Amnesiac" is a 2008 Bank Street - Best Children's Book of the Year.
About the Author
Gabrielle Zevin's first young adult novel, "Elsewhere," was an ALA Notable Book and a Quill Book Award nominee. She is also the author of books for adults including "The Hole We're In" and "Margarettown," and of the screenplay for "Conversations with Other Women," which received an Independent Spirit Award nomination. Of her writing, "The New York Times Book Review" said, "Zevin's touch is marvelously light even as she considers profundities." A dog lover and Harvard graduate, she lives in New York City.
Praise For Memoirs of a Teenage Amnesiac…
"Zevin is completely convincing on the intensity of early passion and the way it can evaporate in the rays of something new, and she has a light touch with the deceptively shallow anguish of adolescence."—New York Times Book Review "Zevin is just a great writer. . . . [She] gets all the details right." —The San Francisco Chronicle "Sensitive, joyful . . . Pulled by the heart-bruising love story, readers will stop to contemplate irresistible questions."—Starred, Booklist "A quiet exploration of identity and self-realization that is simultaneously thought provoking and entertaining."—VOYA
"Unique . . . Will be well received by teens."—
Kirkus Reviews
"Honest and complex characterization grounds a thoughtful, suspenseful examination of memory and identity." —The Horn Book
"Zevin cooks up an entertaining love story . . . teens will identify with her vulnerability and her heightened feelings of alienation. And fans of psychological dramas won't want to put this book down." —Publishers Weekly
"A compelling read with intelligent dialogue that's also touching and funny."
—School Library Journal
"I would definitely recommend this book to my high school students, especially teen girls."—
The ALAN Review
"Zevin blends romance, changing friendships, and familial dysfunction with themes of chance, loss, and choice, and the result is a quiet exploration of identity and self-realization."
—VOYA
"A good read."—Kathy Taber, Kids Ink Children's Bookstore, Indianapolis, IN
"This book seems to be really accurate about how teens think . . . very refreshing and a great read!" —A YALSA YA Galley Teen Reader
"Zevin, already a great author, has outdone herself." —
A YALSA YA Galley Teen Reader
"Zevin is a smooth and subtle stylist, creating particularly interesting characters here." — Bulletin for the Center for Children's Books
"This was a memorable book. Naomi was a likable, realistic character." —A YALSA YA Galley Teen Reader
"This book was hard to put down." —A YALSA YA Galley Teen Reader
"It conveys a sense of normal teenage pressures, but also presents a unique story." —A YALSA YA Galley Teen Reader
Advertisement