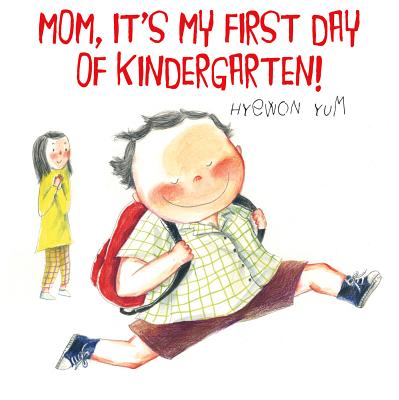 Mom, It's My First Day of Kindergarten! (Hardcover)
Farrar Straus Giroux, 9780374350048, 40pp.
Publication Date: July 3, 2012
Description
It's a child's first day of kindergarten, but who is worried about all the new people and the different things he'll meet--the child? No The mother. In a refreshing reversal of roles, the child takes it upon himself to comfort and reassure his mother that everything will be fine, she'll get used to him going to big-kid school, and yes, he is ready for the first day of kindergarten. Utterly charming in its simplicity, Yum playfully uses size and color to reveal emotions of this milestone beginning.
Mom, It's My First Day of Kindergarten is a Kirkus Reviews Best Children's Book of 2012
About the Author
Hyewon Yum was a very nervous mother when her own son started kindergarten. She's since realized that yes, he was ready for big-kid school. She is the creator of three previous picture books: Last Night, a Fiction Honorable Mention for the Bologna Ragazzi Award and winner of the Golden Kite Award for Picture Book Illustration; There Are No Scary Wolves, winner of the Society of Illustrators' Founder's Award; and The Twins' Blanket, a Junior Library Guild selection. She lives in Brooklyn, New York.
Praise For Mom, It's My First Day of Kindergarten!…
I"n the enchanting world of Hyewon Yum ('There Are No Scary Wolves,' 'The Twins' Blanket'), parents are the frantic ones while children remain calm and confident. Mostly. Here, Mom worries that the school is big and that her 5-year-old could get lost. 'Mom, it's not that big,' he tells her. 'I think it's just right for a big boy like me.' But by the time they arrive at the classroom, his bright pink cheeks have faded to blue, and he has literally shrunk in size. Their roles flip back and forth until, at the end of the day, the boy assures his nervous mother that school is 'awesome.' So is yet another book by Yum. "--The New York Times Book Review
"This sweet, endearing book provides an extraordinary opportunity for parents and children to share their mutual fears and reassure one another as the big day approaches. Fantastic."--School Library Journal
"...a charming, sensitive and fresh-feeling antidote for this fraught time."--The Wall Street Journal
"Yum's (Last Night, rev. 1/09; The Twins' Blanket, rev. 9/11) breezy illustrations are spot on, the mom's baby-boy-blue tint aptly reflecting the story's small-child anxiety."--Horn Book, starred
"Yum has perfectly captured the emotional ups and downs of both parent and child in a visually expressive work that will shore up adults as they send their children off on that momentous day."--Kirkus, starred
"[an] inventively styled, deeply empathic book."--Publishers Weekly, starred
Advertisement