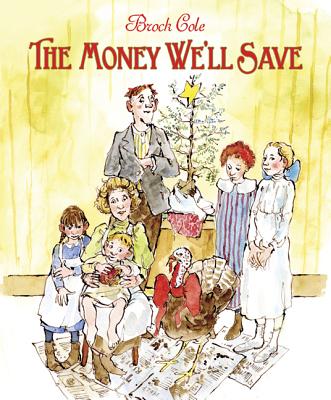 The Money We'll Save (Hardcover)
Farrar Straus Giroux, 9780374350116, 40pp.
Publication Date: October 11, 2011
Description
One of "Horn Book"'s Best Picture Books of 2011
When Pa brings a turkey poult home to fatten for Christmas dinner, he assures Ma that it will be no trouble since it can live in a box by the stove and eat table scraps--and just think of the money we'll save But it's not quite so simple to raise a turkey in a tiny flat in a nineteenth-century New York City tenement. Can Pa and the children manage the willful and growing Alfred and keep the neighbors happy until Christmas? Pa finds a solution for every difficulty--until he encounters one that threatens to ruin Christmas completely. How the family joins together to solve this last difficulty makes for a very funny and satisfying holiday story.
About the Author
Brock Cole is the author/illustrator of many picture books and young adult novels. He lives in Buffalo, New York.
Praise For The Money We'll Save…
"When Pa brings home a young turkey to fatten up for Christmas dinner, chaos follows in Cole's picture book tale about a penny-pinching family squeezed into a 19th century New York City tenement."--Sacramento Bee "...all ends well in this humorous, wholesome story about tightened straits, with its not-too-vinegary perspective on how the other half celebrates." --NYTimes.com   "This could easily be incorporated into a class history lesson or simply enjoyed as a unique and humorous holiday story." --BCCB
"Nothing is sumptuous for the 19th-century tenement-dwelling family at the heart of Brock Cole's endearing picture book 'The Money We'll Save' (Farrar, Straus & Giroux, 40 pages, $16.99)…With Mr. Cole's watercolor-filled wobbly line drawings, we see the family—and soon their neighbors—struggling to accommodate the growing bird. Not a penny is saved, of course, but in the end the bird offers enrichment of a charmingly different sort." --Wall Street Journal
"Cole's buoyant watercolors capture the busy chaos and warm homeyness of family life plus turkey in this folksy journey into a different time." --
Booklist
 "Cole's blithe illustrations, comfortably crowded with his amusing, expressive characters, set this entertaining holiday story in nineteenth-century New York City." --
Horn Book Magazine,
starred review "…a holiday story as humorous as it is touching." --
Publishers Weekly
 "Cole's humorous illustrations bring to life the crowded conditions in a 19th-century New York tenement building; the characters are raggedy and poor, but full of spirit and good will."
--School Library Journal
"When Pa brings home a turkey poult to raise for Christmas dinner, hilarious complications ensue in this heartwarming family story set in 19th-century New York City." --Kirkus Reviews, starred review
Advertisement