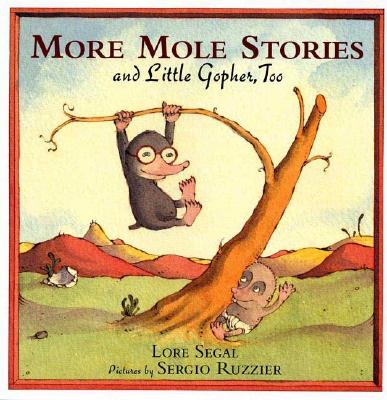 More Mole Stories and Little Gopher, Too (Hardcover)
Farrar, Straus and Giroux (BYR), 9780374350260, 40pp.
Publication Date: April 1, 2005
* Individual store prices may vary.
Description
More stories about an inquisitive mole and his patient grandmother

Once there was a Mole who lived with his Grandmother Mole in a hole in the forest, and most of the time they got on well enough. But then there was the time Mole wouldn't share with Little Gopher, the time Mole ate all the chocolate chip cookies, the time Mole walked off with the whole bag of pretzels, and the time when Mole wouldn't let Grandmother Mole have a nice talk on the telephone.

In four engaging encounters, with detailed line-and-watercolor pictures, Little Mole does the things little moles will always do and grandmothers will forever try to stop them from doing.
Praise For More Mole Stories and Little Gopher, Too…
"Four perceptive, amusing and very short tales...all situations too familiar to preschoolers and their families. With the compelling patterns and verbal economy of a gifted storyteller, Segal draws us into an idio-syncratic, comfortable world where affection rules. Ruzzier's antique colors...and his portrait of the moles...complete this triumphant mix." -- The Horn Book
"Segal demonstrates that she is attuned to the difficulties that loom large in the lives of young children. Charming...perfect for one-on-one sharing." -- School Library Journal
"The words and pictures...capture the loving bond between child and caregiver. Young preschoolers will see their world in the cozy sweet scenarios that show Mole being embraced not for his obedience but just for who he is." -- Booklist
"Intimate earth-tone watercolor illustrations convey Little Mole's behavior and a love and loyalty he and his Grandmother do share. His impish antics and declarative statements...will bemuse and amuse young readers." -- Kirkus Reviews
"Families, readers, and readees who relished the cozy storytelling and quirky yet familiar characters of the first book will definitely want this second helping." -- The Bulletin of the Center for Children's Books
or
Not Currently Available for Direct Purchase