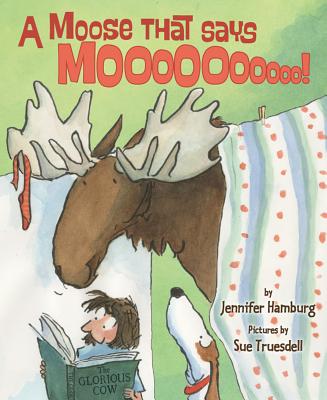 A Moose That Says Moo (Hardcover)
Farrar, Straus and Giroux (BYR), 9780374350581, 32pp.
Publication Date: October 1, 2013
* Individual store prices may vary.
Description
From jump-roping skunks to book-reading sharks, the animals in this girl's make-believe zoo will do whatever she wants. Messing with nature is fun at first, until we see how hilariously wrong things go. Oinking otters! Picketing ground hogs! Stage-crashing pigs! What could be next? With deadpan text and eye-popping art, this raucous picture book A Moose That Says Moo builds gleefully to a riot of craziness that brings the whole fantasy tumbling down—in a comedic warning against imaginary menageries that kids will find hilarious.
About the Author
Jennifer Hamburg is an Emmy-winning children's television writer who has worked on hit shows such as Doc McStuffins, Daniel Tiger's Neighborhood, and Super Why! She is currently at work on another Hazy Bloom adventure, and lives with her family in Houston, Texas.

Sue Truesdell has illustrated many children's books over her two-decade career, including Betsy Byars's I Can Read! series about the adventuresome Golly Sisters and Chicken Said, "Cluck!" by Judyann Ackerman Grant, winner of a Theodor Seuss Geisel Honor in 2009.
Praise For A Moose That Says Moo…
"This one is as much fun as it sounds, and it will find a regular spot in the storytime rotation." —Booklist
"In this debut picture book, a little girl imagines a zoo with no cages and an assortment of uniquely talented animals." —School Library Journal
"* Infectious good fun." —Kirkus Reviews, starred review
"* Amusing illustrations perfectly reflect the spirit of the story." —Starred Review / Kirkus Reviews (on CHICKEN SAID, "CLUCK!" by Judyann Ackerman Grant)
"Perfectly silly." —Kirkus Reviews (on THIS IS A HOSPITAL, NOT A ZOO by Roberta Karim)
"Splendidly doggish . . . Dog lovers of all ages will run in circles for this loving, funny celebration of the human-canine relationship." —AMAZON.COM (on HOW TO TALK TO A DOG by Jean Craighead George)
"Truesdell's got a gift for casually cockeyed canines: there's a Feifferesque touch to her scrawled lines, and her panoply of pooches are expressive in the extreme with their motion lines and flying ears (the collection on the endpapers will send dogophiles into sighs of yearning)." —The Bulletin of the Center for Children's Books (on HOW TO TALK TO A DOG by Jean Craighead George)