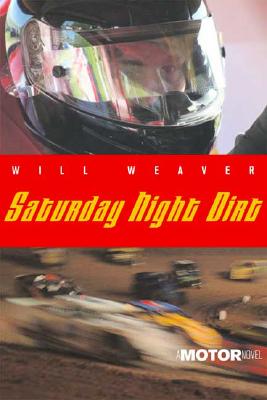 Saturday Night Dirt: A MOTOR Novel (Hardcover)
A MOTOR Novel
Farrar, Straus and Giroux (BYR), 9780374350604, 176pp.
Publication Date: April 1, 2008
* Individual store prices may vary.
or
Not Currently Available for Direct Purchase
Description
It's a sizzling summer Saturday, and Headwaters Speedway has suddenly become the place to be. Thanks to rainouts across the state, this small-town dirt track is drawing both big-time stock cars and local drivers. There's Trace Bonham, whose Street Stock Chevy is acting up in a big way. And Beau Kim, whose "stone soup" Modified has been patched together from whatever parts he could scrape up. And no one could forget Amber Jenkins, a strawberry blonde who has what it takes to run rings around them all. Keeping everyone on track is Melody Walters, who knows that the impending rain might be exactly what they need to keep her father's speedway afloat—or sink it for good.
In Will Weaver's high-revving novel, the first in the Motor series, a cast of car-obsessed teens and adults are all out to prove themselves, both on and off the quarter-mile track, as they move through their day on a collision course to meet on Saturday night dirt.
Saturday Night Dirt
is a 2009 Bank Street - Best Children's Book of the Year.
About the Author
Author of "Red Earth, White Earth" and "A Gravestone Made of Wheat," Will Weaver grew up in northern Minnesota on a dairy farm. The sometimes harsh and beautiful landscape of farm and small town life figures strongly in his writing. "Sweet"" Land," an independent feature film adaptation of his story "Gravestone Made of Wheat," and starring Ned Beatty, premiered in October of 2006. Weaver is also known for his young adult fiction. His character Billy Baggs, a teenage farm boy baseball phenom, earned his way into the hearts of teen readers in the series "Striking Out," "Farm Team," and" Hard Ball." Each novel has won numerous awards, including being named an ALA Best Book for Young Adults. "Memory Boy," a post-apocalyptic novel based on environmental collapse, is used across the curriculum in many junior and senior high schools. "Claws," a novel set in northeastern Minnesota- (Duluth and the Boundary Waters Canoe Area Wilderness) features outdoor survival with a strong family back story. Weaver's "Full Service" won starred reviews ("Kirkus Reviews" and "The Horn Book") for its focus on a young man struggling with matters of religious faith and doubt, all complicated by his first "real" summer job, at a gas station, where he "meets the public" in all its variety. "Defect," a novel about a teenager born with a miraculous birth abnormality, highlights what one reviewer from "The St. Paul Pioneer Press" called "the humanity and decency that runs through all of Weaver's work.." As an author, Mr. Weaver is particularly concerned with youth literacy and keeping kids reading. His new MOTOR series addresses a group of underserved young adult readers: kids who love cars. His new novel "Saturday Night Dirt" and its sequel, "Super Stock Rookie," focus on dirt track stock car racing. The series starts with a close focus on a small town speedway and the cast of colorful characters who come there to race on Saturday nights. One of the characters, sixteen-year-old Trace Bonham, is a natural driver with dreams of racing professionally. The MOTOR series follows Trace's on his path toward getting a "ride" (a sponsored race car) and competing at the highest level he can. While these auto racing novels will certainly appeal to boys, Weaver's novels always contain a diverse cast of characters. Auto racing is one of the few sports that gives no gender advantage, and the MOTOR series also includes a positive and realistic portrayal of young women involved in racing.Along with the MOTOR series of novels, Weaver has formed a stock car racing team with a teenaged driver. His black No. 16 Modified race car, co-sponsored by Farrar, Straus & Giroux publishers, is driven by Skyler Smith of Bemidji. Team Weaver races in the WISSOTA circuit in the upper Midwest.An avid outdoorsman, Will Weaver lives with his wife on the Mississippi River in northern Minnesota.
Praise For Saturday Night Dirt: A MOTOR Novel…
"If you have a young car-racing fan in your family, this book is the perfect summer reading choice: It's a face-paced story about a struggling speedway in northern Michigan and features a great cast of characters, all car-obsessed teens. Great for boys and girls." —Good Morning America
"For rugged reality, pick up Saturday Night Dirt by Will Weaver, a high-energy story about cars and small-town racing." —Parade magazine
"In small-town Northern Minnesota, the place to be on Saturday night is Headwaters Speedway, a dirt racetrack. Local teens gather to race, work on the pit crew, watch the action . . . Lots of car talk and racing, some rivalries and a bit of romance keep the pace fast and enjoyable, even for non-race fans." —The Providence Journal
"Weaver fleshes each [character] out enough to leave a lasting impression on readers and make them curious to know what happens next." —
Publishers Weekly
"Thoroughly enjoyable...this book presents a fascinating look at small-time racing where the love of it gives the glitz of NASCAR its roots."
—School Library Journal
"Compelling...It is the atmosphere of the track that is the real star here.Young racing fans, particularly those familiar with the small tracks that dot rural parts of the country, will find much that rings true." —
Booklist
"Librarians need to steer boys who tinker with internal combustion engines to Weaver's latest work. Short chapters and a brisk pace...may attract those reluctant readers who can recite the firing order of a V-8 and know how to tighten down a valve cover."
—Kirkus Reviews
"The racing lingo moves the story along, while the reader's interest remains piqued wondering how all the characters will fit together, who will end up with whom, and who will win their heart's desire. This book is a winner in a sports event rarely dealt with by young adult authors."
—VOYA
"I was pleasantly surprised when I began reading
Saturday Night Dirt
. I was completely absorbed. I really felt like I could identify with the characters. I read the book in one day. It was impossible to put down." —Ben, 17 "The book
Saturday Night Dirt
has been one of the best books I've read." —Hannah, 13 "I loved the book
Saturday Night Dirt
. Anyone who reads this book will change the way they look at dirt tracks forever."—Bethany, 13 "Saturday Night Dirt is a great book. I have never been a big racing fan, but even so, this was an awesome book. I can't wait for the next one." —Kyle, 14
Advertisement