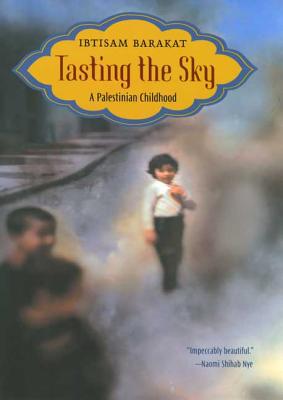 Tasting the Sky
A Palestinian Childhood
Hardcover

* Individual store prices may vary.
Other Editions of This Title:
Paperback (10/25/2016)
Paperback, Spanish (5/1/2010)
Description
Winner, Arab American National Museum Book Award for Children's/YA Literature, among other awards and honors.

"When a war ends it does not go away," my mother says."It hides inside us . . . Just forget!"
But I do not want to do what Mother says . . . I want to remember.

In this groundbreaking memoir set in Ramallah during the aftermath of the 1967 Six-Day War, Ibtisam Barakat captures what it is like to be a child whose world is shattered by war. With candor and courage, she stitches together memories of her childhood: fear and confusion as bombs explode near her home and she is separated from her family; the harshness of life as a Palestinian refugee; her unexpected joy when she discovers Alef, the first letter of the Arabic alphabet. This is the beginning of her passionate connection to words, and as language becomes her refuge, allowing her to piece together the fragments of her world, it becomes her true home.

Transcending the particulars of politics, this illuminating and timely book provides a telling glimpse into a little-known culture that has become an increasingly important part of the puzzle of world peace.
Praise For Tasting the Sky: A Palestinian Childhood…
"A spare elegant memoir . . . What makes [it] so compelling is the immediacy of the child's viewpoint, which depicts both conflict and daily life without exploitation or sentimentality. There's much to talk about here." —Starred, Booklist

"Beautifully crafted. Readers will be charmed by the writer-to-be as she falls in love with chalk, the Arabic alphabet, and the first-grade teacher who recognizes her abilities." —Starred, School Library Journal

"A compassionate, insightful family and cultural portrait." —Starred, Kirkus Reviews

"Brims with tension and emotion." —Publishers Weekly

"Barakat strives to depict vivid details of everyday life . . . Well worth purchasing to provide a viewpoint not often available to young adults in the United States." —VOYA

"This is an astonishingly beautiful and heartbreaking book. The resurrected memories of a gifted girl growing up under the crush of war and occupation gave me hope: that if we read carefully, with open hearts, the world just might begin to change." —Suzanne Fisher Staples, author of Under the Persimmon Tree

"Ibtisam Barakat is not only a luminous writer and thinker, she is a wondrous healer, too. In this exquisite, tender account of her Palestinian childhood, nothing is missing—love, attachment, struggle, fear, humor, resilience. The child in this story carries more wisdom and a keener sense of justice and injustice than do most people in seats of power. Tasting the Sky should be read by everyone with a humane interest in the story of Palestine." —Naomi Shihab Nye, author of Habibi

"This is a poignant, eloquent testament of a war-torn childhood, a story we in the United States have only glimpsed before now. This generous author has truly opened her heart for all to see." —Jennifer Armstrong, author of The American Story: 100 True Tales from American History

"In vivid, beautiful prose, Ibtisam Barakat transports readers into a place few Westerners have ever seen—the interior life of a young girl and her family in the occupied West Bank. This book, appropriate for readers young and old, holds literature's great power: the power to humanize the 'other,' and to therefore change the way we understand our world." —Sandy Tolan, author of The Lemon Tree: An Arab, a Jew, and the Heart of the Middle East

"An extremely compelling memoir about a young Palestinian girl who lived through the Six Day War in the Middle East . . . interesting [and] heartwarming." —A YALSA YA Galley Teen Reader

"This book is very eye opening -- it tells the side of the story that you never learn about in history class and in the news, and it is really well written." —A YALSA YA Galley Teen Reader
Farrar, Straus and Giroux (BYR), 9780374357337, 192pp.
Publication Date: February 20, 2007
About the Author
A bilingual speaker of Arabic and English, Ibtisam Barakat grew up in Ramallah, West Bank, and now lives in the United States. Her work focuses on healing social injustices and the hurts of wars, especially those involving young people. Ibtisam emphasizes that conflicts are more likely to be resolved with creativity, kindness, and inclusion rather than with force, violence, and exclusion. Her educational programs include Growing Up Palestinian; Healing the Hurts of War; The ABCs of Understanding Islam; Arab Culture, The Mideast Conflict; and Building Peace. The ABCs was selected by the Missouri Humanities Council as one of its Speaker Bureau programs in 2003 and 2004.

Ibtisam has taught language ethics courses -- Language Uses and Abuses -- at Stephens College (2002). She is also the founder of Write Your Life (WYL) seminars and has led WYL seminars in places including Morocco, Washington, D.C., Missouri, and Ramallah.

In 2001, Ibtisam was a delegate to the third United Nations conference on the elimination of racism, which was held in Durban, South Africa. In 2004, she was a visiting writer at the Creativity for Peace camp, which brought Israeli and Palestinian teenage girls to Santa Fe to provide an opportunity for them to live together in cooperation and peace. In January 2005, she was a moderator at the fourth international Faculty for Israeli-Palestinian Peace conference in Jerusalem, where Israeli, Palestinian, and international faculty members and students work toward finding creative ways to bring about peace for Israel and Palestine.

As an educator, poet, and peace activist, Ibtisam has spoken at the Center for Southern Literature / Margaret Mitchell House and Museum; William Woods College; Missouri Historic Theater; Dartmouth College; Printers Row Book Fair in Chicago; PEN New England; National Writers Union / New Jersey chapter; the International Children's Literature Day / University of Wisconsin; Children's Literature New England / Williams College; North Carolina Center for Advancement of Teaching; Reading the World / University of San Francisco; and various high schools, including the school district of Anchorage, Alaska.

Ibtisam Barakat lives in Columbia, Missouri. TASTING THE SKY is her first book.
or
Not Currently Available for Direct Purchase