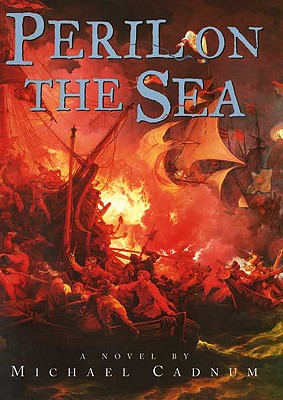 Peril on the Sea
Hardcover

* Individual store prices may vary.
Description
It is the summer of 1588 and a pair of unlikely shipmates is traveling on the Vixen, a privateer that will soon be drafted to join a flotilla of English ships bound for a fiery clash with the Spanish Armada. Seventeen-year-old Sherwin is aboard to repay a debt he owes the ship's roguish captain, Brandon Fletcher. Sixteen-year-old Katharine is sailing with them in a desperate bid to save her noble family's fortune. The fight will be harrowing and bloody, and the unfolding tumult will challenge the character of both Sherwin and Katharine, who are about to discover the deeper meaning of strife and of honor.
This fascinating tale affords an unusual view of one of the most important naval encounters in history, as a kindling romance between two young people takes place amidst a reluctant race to battle.
Praise For Peril on the Sea…
"Cadnum brings his keen eye for historical fiction to the English defeat of the Spanish Armada in 1588. That battle provides the canvas upon which he paints a smaller story of 17-year-old Sherwin, who is thrust into adventure and romance when he agrees to record the exploits of Captain Fletcher, a fictional privateer and rival of Sir Francis Drake . . . Cadnum deftly sidesteps what can be the most frustrating aspect of naval adventures—the arcana of masts, sails, jibs, booms, and rigs—and instead focuses his attention on the excitement and intrigue of a major event in the history of naval warfare . . . This smooth read could provide a nice stepladder to Patrick O'Brian's unrivaled Aubrey/Maturin series."  —
Booklist
"Cadnum's prose is vivid and evocative, brilliantly re-creating life at sea in the Elizabethan era. From the opening scene, when Sherwin's Patience sinks, to intrigues on land and sea, to engagement with the 100-ship Armada, the tale is expertly paced, the varied threads of the tale elegantly woven. There's plenty here to appeal to a wide audience."  —Kirkus Reviews
"Cadnum creates an exciting tale of the sea, dripping with historical drama and adventure. The Vixen is manned by a true cast of characters, including a ferocious pirate who is bested by a pig and a young boy who was once owned by a mountebank. Fletcher's character is especially interesting, as the reader can never tell if the ship is headed for battle until the final chapters . . . History buffs will appreciate the insights into Queen Elizabeth's reign, and it is a good book to recommend for middle school adventure fans." —
Voice of Youth Advocates
Farrar Straus Giroux, 9780374358235, 245pp.
Publication Date: May 26, 2009
About the Author
MICHAEL CADNUM has written many novels, including the medieval adventure The Book of the Lion, a National Book Award Finalist. He lives in Albany, California
or
Not Currently Available for Direct Purchase