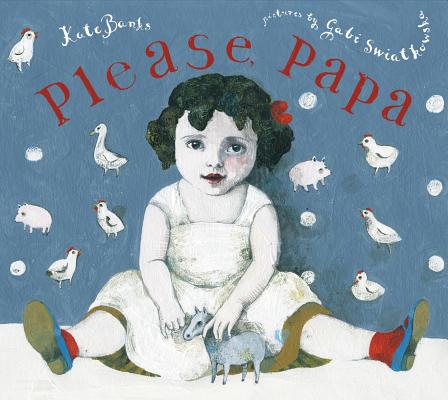 Please, Papa
Hardcover

* Individual store prices may vary.
Description
Alice was making a farm in the middle of her bedroom. She asked Mama for a pig and chickens for her farm, but when Mama didn't have a horse, Alice turned to her papa.
"Please, Papa," said Alice.
"Okay," said Papa, who, since Alice asked so nicely, put her on his back and trotted around like a horse himself.
A playful story where, with the use of a single polite word, lines between the real and the imaginary become blurred as toy animals come to life.
A companion to Thank You, Mama, Kate Banks and Gabi Swiatkowska's Please, Papa is perfect for a quick and playful lesson in manners.
Farrar, Straus and Giroux (BYR), 9780374360023, 32pp.
Publication Date: May 14, 2013
About the Author
Kate Banks has written many books for children, among them Max's Words, And If the Moon Could Talk, winner of the Boston Globe–Horn Book Award, and The Night Worker, winner of the Charlotte Zolotow Award. She grew up in Maine, where she and her two sisters and brother spent a lot of time outdoors, and where Banks developed an early love of reading. "I especially liked picture books," she says, "and the way in which words and illustrations could create a whole new world in which sometimes real and other times magical and unexpected things could happen." Banks attended Wellesley College and received her master's in history at Columbia University. She lived in Rome for eight years but now lives in the South of France with her husband and two sons, Peter Anton and Maximilian.
If you're born on this planet, you're set for a colorful life, whether you want it or not.  I found myself in Eastern Europe, in southern Poland, in a little village with a weird name.
I don't remember making that decision.
The first thing I remember are the crows.  Crows are to Poland what ravens are to London.  The crows would hold daily conferences right in front of my house, spreading their black selves like a carpet over the grassy field.  I'd run up to them and watch them rise like a shimmering giant, watch the sky swallow them up.
I wrote stories until it was decided that there was too much kissing going on—in the stories, of course, not in real life. I was forbidden to write any more.  I drew pictures, of princesses mostly.  As there were no objections, I kept at it all through elementary school, gymnasium, college, and right into my professional life.
While at elementary school, I really did believe I was a princess.  Not the Disney kind, but one more along the lines of a Russian folktale, the princess lost and never found, waiting patiently for the day it was officially announced.
I entered the Lyceum of Art at fourteen and discovered it was full of princesses, as well as knights.  Sometime around the third year of school it dawned on me that if I was the "lost and never found" kind of princess, there was no use waiting for the official announcement.  So I climbed on top of my wardrobe to take a look at things from a different perspective and decided it was time to go to America.
I took my dog with me.  My dog was very fond of eating toilet paper, and since we had no such commodity in Poland at the time, I figured he'd do better in America.  Plus, I couldn't bear to leave him behind.
Gabi Swiatkowska was born in Tychy, Poland, and attended the Lyceum of Art in Bielsko-Biala, as well as the Cooper Union School of Art in New York City. She lives in Brooklyn, New York.
or
Not Currently Available for Direct Purchase