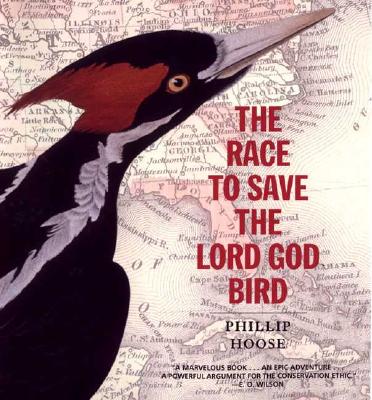 The Race to Save the Lord God Bird (Hardcover)
Melanie Kroupa Books, 9780374361730, 196pp.
Publication Date: August 11, 2004
Other Editions of This Title:
Hardcover (8/26/2014)
* Individual store prices may vary.
Description
The tragedy of extinction is explained through the dramatic story of a legendary bird, the Ivory-billed Woodpecker, and of those who tried to possess it, paint it, shoot it, sell it, and, in a last-ditch effort, save it. A powerful saga that sweeps through two hundred years of history, it introduces artists like John James Audubon, bird collectors like William Brewster, and finally a new breed of scientist in Cornell's Arthur A. "Doc" Allen and his young ornithology student, James Tanner, whose quest to save the Ivory-bill culminates in one of the first great conservation showdowns in U.S. history, an early round in what is now a worldwide effort to save species. As hope for the Ivory-bill fades in the United States, the bird is last spotted in Cuba in 1987, and Cuban scientists join in the race to save it.
All this, plus Mr. Hoose's wonderful story-telling skills, comes together to give us what David Allen Sibley, author of "The Sibley Guide to Birds" calls "the most thorough and readable account to date of the personalities, fashions, economics, and politics that combined to bring about the demise of the Ivory-billed Woodpecker."
"The Race to Save the Lord God Bird" is the winner of the 2005 Boston Globe - Horn Book Award for Nonfiction and the 2005 Bank Street - Flora Stieglitz Award.
About the Author
Phillip Hoose is an award-winning author of books, essays, stories, songs and articles. Although he first wrote for adults, he turned his attention to children and young adults in part to keep up with his own daughters. His book "Claudette Colvin" won a National Book Award and was dubbed a "Publishers Weekly" Best Book of 2009. He is also the author of "Hey, Little Ant," co-authored by his daughter, Hannah, "It's Our World, Too!," and "We Were There, Too!," a National Book Award finalist. He has received a Jane Addams Children's Book Award, a Christopher Award, and a Boston Globe-Horn Book Award, among numerous honors. He was born in South Bend, Indiana, and grew up in the towns of South Bend, Angola, and Speedway, Indiana. He was educated at Indiana University and the Yale School of Forestry. He lives in Portland, Maine.
Praise For The Race to Save the Lord God Bird…
"With power and humor, rage and sorrow, the narrative details the demise of the Lord God bird, braiding into its tale the stories of those who came into contact with it, from J.J. Audubon himself to James Tanner...Sidebars add engrossing details, and extensive back matter bespeaks exemplary nonfiction. But it's the author's passion that compels. Outstanding in every way." Starred, Kirkus Reviews

"In a thoroughly researched account based on interviews, primary materials, and published sources, Hoose tells how naturalists...raised, too late, awareness of the Ivory-bill's plight. Illustrated with archival photos and well provided with side bars, "important dates," maps, glossary, and index, this important summary of an environmental tragedy belongs in every library."
-- The Horn Book

"This meticulously researched labor of love uses drama, suspense, and mystery to tell the story of the Ivory-billed Woodpecker...Hoose skillfully introduces each individual involved through interesting, historically accurate scenes. The author's passion for his subject and high standards for excellence result in readable, compelling nonfiction."
-- Starred, School Library Journal

"The combination of the best of storytelling supported by extensive research...a must for any library serving youth or teachers." -- VOYA

"A compelling tale...readers will sense the urgency that remains, even if the Ivory-bill is gone." --Publishers Weekly

"Hoose is a gifted storyteller. An engrossing story." -- The Bulletin of the Center for Children's Books

"Fascinating, engrossing." -- Book Links



"I found myself thinking about The Race to Save the Lord God Bird long after I finished reading it. I hope this story reaches many readers. It provides a great education in the complex issues that still shape conservation today."

-David Allen Sibley, author of The Sibley Guide to Birds


"A groundbreaking book for readers of any age. In a true story spanning two hundred years, Hoose delivers a spellbinding mystery and a haunting look at how a species can suddenly lose ground. James Tanner and Arthur Allen give readers a different kind of pioneer, explorers racing against time to understand the perplexing biology and ecology of a beautiful phantom clinging to the planet in a lone forest holdout. In John Baker we meet perhaps America's first modern-day endangered-species conservationist. Above all, this is a story about attitudes -- toward birds, toward knowledge, toward land and science and wealth, and about the magical commonality of living things. After they've finished The Race to Save the Lord God Bird, many young readers will consider careers in conservation biology."

-Paul R. Ehrlich, President, Center for Conservation Biology, Stanford University


"What a wonderful book! How we got into a biodiversity crisis and how we might begin to get out of it, all captured in the suspenseful, many-threaded tale of the race to save the Ivory-billed Woodpecker. Hoose is especially adept at depicting the complicated human sides of this tragedy. Everyone interested in conservation and ecology will be enthralled and informed."

-Daniel Simberloff, President, American Society of Naturalists
or
Not Currently Available for Direct Purchase