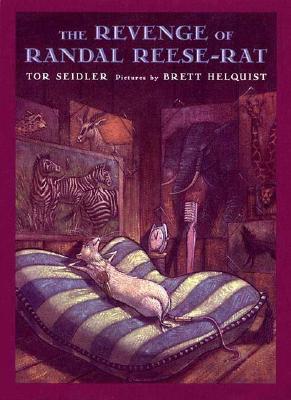 The Revenge of Randal Reese-Rat (Hardcover)
Farrar, Straus and Giroux (BYR), 9780374362577, 240pp.
Publication Date: September 1, 2001
* Individual store prices may vary.
or
Not Currently Available for Direct Purchase
Description
Sequel to A Rat's Tale.

In A Rat's Tale, Montague Mad-Rat saved the day for the wharf rats of New York City and won the affection of the she-rat of his dreams, the lovely Isabel Moberly-Rat. All ratdom hailed Montague as a hero -- except for the rat whose story is at the center of this captivating sequel. A rodent of impeccable breeding and exquisite personal hygiene, Randal Reese-Rat is mad with jealousy, believing Montague has stolen his former bride-to-be. His jealousy is no secret on his wharf, and when an unthinkable crime is perpetrated against Izzy and Monty on their wedding night, Randal is the prime suspect. Now on the lam, with a price on his head and thugs on his tail, Randal involves secret friends of his in a perfect and horrible revenge on the whole rat colony, Izzy and Monty included. But his plans are hopelessly complicated when a new rat enters his life, an exotic she-rat who also happens to be the cousin of his nemesis, Montague.
Praise For The Revenge of Randal Reese-Rat…
"Though a rational ratriot, Randal Reese-Rat can't help being jealous and slightly embarrassed at the way Montague Mad-Rat both saved ratkind and stole his finance' from him in A Rat's Tale (1986) . . . The story here is not just of revenge, travel, and the rift between elite warf rats and those rats that to things. No, the fun is in the magnificently ratty details, the subtle wordplay and in the chance to visit ratdom." --Kirkus Reviews
Advertisement