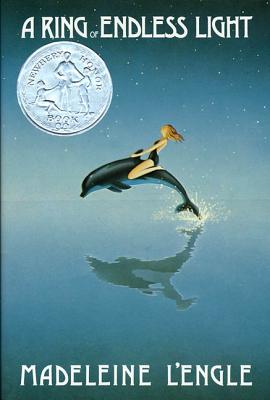 A Ring of Endless Light
The Austin Family Chronicles, Book 4
Hardcover

* Individual store prices may vary.
Other Editions of This Title:
Paperback (9/2/2008)
Prebound (7/1/1981)
Compact Disc (9/1/2008)
Description
In this award-winning young adult series from Madeleine L'Engle, author of A Wrinkle in Time, Vicky Austin experiences the difficulties and joys of growing up.
"This wasn't the first tie that I'd come close to death, but it was the first time I'd been involved in this part of it, this strange, terrible saying goodbye to someone you've loved."

These are Vicky Austin's thoughts as she stands near Commander Rodney's grave while her grandfather, who himself is dying of cancer, recites the funeral service.
Watching his condition deteriorate over that long summer is almost more than she can bear. Then, in the midst of her struggle, she finds herself the center of attention for three young men. Leo, Commander Rodney's son, turns to her as an old friend seeki comfort but longing for romance. Zachary, whose attempted suicide inadvertently cauesd Commander Rodney's death, sees her as the one sane and normal person who can give some meaning ot his life. And Adam, a serious young student working at the nearby marine-biology station, discovers Vicky, his friend's little sister, incipient telepathic powers that can help him with his experiments in dolphin communications.
Vicky finds solace and brief moments of peace in her poetry, but life goes on around her, and the strain intensifies as she confromts matters of love and of death, of dependence and of responsibility, universal concerns that we all must face. The inevitable crisis comes and Vicky must rely on openness, sensitivity, and the love of others to overcome her private grief.
Once again, Madeleine L'Engle has written a story that reveals in the drama of vividly portrayed characters and events the spiritual and moral dimensions of common human experiences.
A Ring of Endless Light is a 1981 Newbery Honor Book.
The Austin Family Chronicles
Meet the Austins (Volume 1)
The Moon by Night (Volume 2)
The Young Unicorns (Volume 3)
A Ring of Endless Light (Volume 4) A Newbery Honor book!
Troubling a Star (Volume 5)
Praise For A Ring of Endless Light: The Austin Family Chronicles, Book 4…
"With customary grace and firm control of an intricate plot, L'Engle has created another irresistible novel about familiar characters, the Austin family. Vicky, 16, narrates the climactic events with Grandfather Eaton on a New England island, where he is living his last days." —Publishers Weekly
"L'Engle has the magic storytelling gift that makes it a pleasure to lose yourself in her spell." —Newsweek
"L'Engle writes eloquently about death and life with provocative passages that linger in the thoughts of the perceptive." —Booklist, Starred Review
Farrar, Straus and Giroux (BYR), 9780374362997, 336pp.
Publication Date: May 1, 1980
About the Author
Madeleine L'Engle (1918-2007) was the Newbery Medal-winning author of more than 60 books, including the much-loved A Wrinkle in Time. Born in 1918, L'Engle grew up in New York City, Switzerland, South Carolina and Massachusetts. Her father was a reporter and her mother had studied to be a pianist, and their house was always full of musicians and theater people. L'Engle graduated cum laude from Smith College, then returned to New York to work in the theater. While touring with a play, she wrote her first book, The Small Rain, originally published in 1945. She met her future husband, Hugh Franklin, when they both appeared in The Cherry Orchard. Upon becoming Mrs. Franklin, L'Engle gave up the stage in favor of the typewriter. In the years her three children were growing up, she wrote four more novels. Hugh Franklin temporarily retired from the theater, and the family moved to western Connecticut and for ten years ran a general store. Her book Meet the Austins, an American Library Association Notable Children's Book of 1960, was based on this experience. Her science fantasy classic A Wrinkle in Time was awarded the 1963 Newbery Medal. Two companion novels, A Wind in the Door and A Swiftly Tilting Planet (a Newbery Honor book), complete what has come to be known as The Time Trilogy, a series that continues to grow in popularity with a new generation of readers. Her 1980 book A Ring of Endless Light won the Newbery Honor. L'Engle passed away in 2007 in Litchfield, Connecticut.