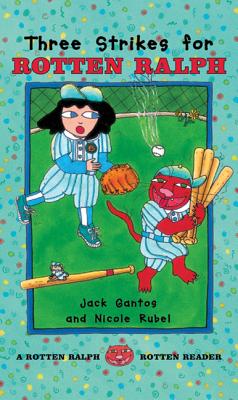 Three Strikes for Rotten Ralph (Rotten Ralph Rotten Readers) (Hardcover)
Farrar Straus Giroux, 9780374363543, 48pp.
Publication Date: February 15, 2011
Description
Before he tries out for the new Fighting Squirrels baseball team, Rotten Ralph is sure he is going to be a superstar. Never mind that he doesn't have any skills and doesn't want to practice. While his owner, Sarah, is doing everything she can to make the team, she tries to help Ralph do his best, too. But with his imagination running wild, Ralph's worst is what comes out.
About the Author
Jack Gantos and Nicole Rubel published their first book, Rotten Ralph, in 1976. They launched the Rotten Ralph Readers in 2001 with Rotten Ralph Helps Out.In addition to the Rotten Ralph books, Jack Gantos is the author of Hole in My Life, a memoir that won the Michael L. Printz and Robert F. Sibert Honors, Joey Pigza Swallowed the Key, a National Book Award Finalist, and Joey Pigza Loses Control, a Newbery Honor book. He lives with his family in Boston, Massachusetts.Nicole Rubel's many books include Twice as Nice: What It's Like to Be a Twin and Grody's Not So Golden Rules. She lives in Aurora, Oregon.
Praise For Three Strikes for Rotten Ralph (Rotten Ralph Rotten Readers)…
"Gantos and Rubel offer easy reading, funny pictures, and an accessible lesson about humility and hard work—sprinkled with some legit baseball pointers."
--Publishers Weekly "Ralph's ... irrepressible rottenness will delight newly independent readers."
--Kirkus Reviews "There is never a dull moment in this colorful and appealing early reader."
--School Library Journal "A quirky but warmhearted baseball story that will amuse young readers, sports fans or not."
--Booklist
Advertisement