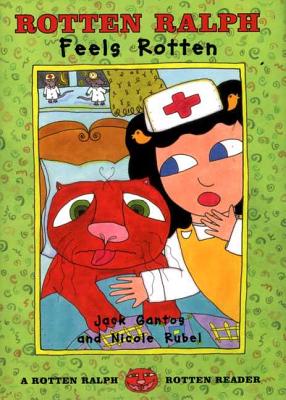 Rotten Ralph Feels Rotten (Rotten Ralph Rotten Readers) (Hardcover)
Farrar Straus Giroux, 9780374363574, 47pp.
Publication Date: September 8, 2004
Description
Rotten to the core
When Sarah serves up a healthy, home-cooked meal chock-full of fruits and vegetables, Rotten Ralph turns up his nose and refuses to eat. With those overflowing, back-alley trash cans in mind, he has more exciting dinner plans on his menu. Garbage for dinner? Uh-oh Rotten Ralph's bad eating habits are about to make him feel rotten for real.
In this latest installment in the popular Rotten Readers, Gantos and Rubel team up to capture their feline hero as he's feeling his worst and making us laugh at the same time.
About the Author
Jack Gantos and Nicole Rubel published their first book, Rotten Ralph, in 1976. They launched the Rotten Ralph Readers in 2001 with Rotten Ralph Helps Out.In addition to the Rotten Ralph books, Jack Gantos is the author of Hole in My Life, a memoir that won the Michael L. Printz and Robert F. Sibert Honors, Joey Pigza Swallowed the Key, a National Book Award Finalist, and Joey Pigza Loses Control, a Newbery Honor book. He lives with his family in Boston, Massachusetts.Nicole Rubel's many books include Twice as Nice: What It's Like to Be a Twin and Grody's Not So Golden Rules. She lives in Aurora, Oregon.
Praise For Rotten Ralph Feels Rotten (Rotten Ralph Rotten Readers)…
"The Magic-Marker intensity of Rubel's palette and the undulating quality of her lines are ideal...Beginning readers will gobble up this third installment of the [series]; unlike Ralph, though, they'll have nothing to regret." -- Starred, Booklist

"If, as the saying goes, we are what we eat, then Rotten Ralph has an appropriate first name. He's also the perfect star for this cautionary tale about eating junk food. Four short chapters give beginning readers appropriate starting and stopping places, and the illustrations not only parallel the text but also help define a few delicious phrases."
-- The Horn Book

"In this beginning reader, Ralph and Sarah are still going strong after almost 30 years together. Ralph's suffering and Sarah's concern are palpable in a series of vivid illustrations that depict his worsening condition, as is their pleasure in being reunited. A great addition to the series."
-- School Library Journal
Advertisement