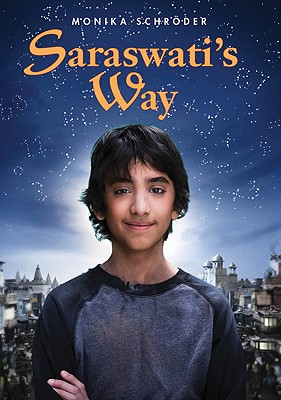 Saraswati's Way (Hardcover)
Farrar Straus Giroux, 9780374364113, 233pp.
Publication Date: November 9, 2010
Other Editions of This Title:
Paperback (8/5/2014)
Prebound (8/5/2014)
* Individual store prices may vary.
Description
If the gods wanted Akash to have an education, he is told, they would give him one. But Akash has spent his entire twelve years poor and hungry. So he decides to take control of his own life and try for a scholarship to the city school where he can pursue his beloved math. But will challenging destiny prove to be more than he has bargained for? In this raw and powerful novel, fate and self-determination come together in unexpected ways, offering an unsentimental look at the realities of India.
Saraswati's Way is a 2011 Bank Street - Best Children's Book of the Year.
About the Author
Monika Schroder lives in New Delhi, India, where she works as the elementary librarian at the American Embassy School. This is her second novel."
Praise For Saraswati's Way…
Praise for Saraswati's Way and Monika Schröder: I read Sarswati's Way in one gulp! Akash's story is compelling because of Akash himself: a beautifully-drawn boy who is by turns bewildered and resourceful; naive and clever; discouraged and determined. I ached for him and cheered him on and will long remember him.—Linda Sue Park, author of Newberry Medal Winner A Single Shard Saraswati's Way rings with important truths: that cultural difference fascinates us into seeing the world from new perspectives while the universality of human experience touches us into embracing other ways of being; that knowledge of right and wrong are the same everywhere.  I love everything about this book.  Its depictions of a dusty Indian village, an exotic Indian festival, fantastical stories of Hindu deities, and a boy's fascination with the mysticism of numbers are truths unto themselves. —Suzanne Fisher Staples, Newberry Honor author of Under the Persimmon Tree
Monika Schroder gives a vivid picture of India and its street children in this powerful story of Akash, a twelve-year-old boy, who knows what he wants.  He risks his life and his beliefs until he discovers Saraswati's way.  This is a compelling tale of today's India from someone who knows it well.— Gloria Whelan, author of the National Book Award Winner Homeless Bird
Saraswati's Way is fascinating and exotic, while at the same time immediate and accessible. Like its protagonist, the book is clear-eyed and open-hearted, and filled with hope. And it even makes a fine case for the pleasures of math! I was transported. Monika Schröder is a writer worth reading. — Paul Zelinsky, author/illustrator of the Caldecott Medal Book Rapunzel
Saraswati's Way takes us into the world of a smart child hindered in his desire for an education by poverty and culture in today's India.  Monika Schröder leads us through this unfamiliar world with the deft hands of an expert Cicero, so that we accept Hindu practices, child labor, and drug dealing as givens, not to be gawked at, but to be comprehended as we gain entrance into a very real child's psyche. She doesn't pull punches.  This is a book to be respected and treasured. — Donna Jo Napoli, author of The Wager

"Set in a rural Indian village as well as the bustling train station and streets of New Delhi, this novel provides young learners with a glimpse of what it could take for an orphaned and unwanted child to survive in the most challenging of circumstances. A relatively gentle tone helps to introduce middle grade readers to issues associated with child poverty and child labor that they may otherwise not read much about." –EconKids
or
Not Currently Available for Direct Purchase