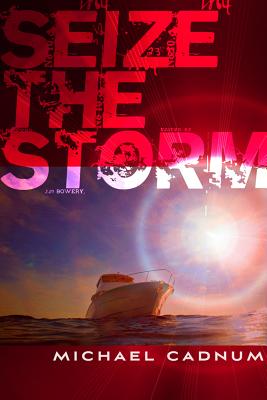 Seize the Storm (Hardcover)
Farrar Straus Giroux, 9780374367053, 240pp.
Publication Date: June 5, 2012
* Individual store prices may vary.
or
Not Currently Available for Direct Purchase
Description
Sailing from California to Hawaii, Susannah, her family, and a crewman are driven by a vicious storm into the path of a drifting powerboat. The ghostly boat carries the bodies of two drug runners and a huge stash of money. For the sailors, stealing the sordid treasure changes everything, causing dissent and division, compromising each of them, and putting their futures at risk. Because now they are being pursued by the worst enemies imaginable, including a drug lord's son eager to prove himself and a cold-blooded teenage hit man with murder on his mind.
About the Author
MICHAEL CADNUM lives in Albany, California. He is the author of many acclaimed titles, including the medieval adventure The Book of the Lion, a National Book Award finalist.
Praise For Seize the Storm…
"Fans of sea stories and suspense will enjoy this one."--Booklist
A Junior Library Guild Selection
"Seize the Storm is a swiftly paced, exciting story written in clear, supple prose that is not easy to write but that is wonderfully easy to read."  —Dean Koontz
"An engrossing summertime escape, especially for guy readers." —VOYA
"Aboard a yacht en route to Hawaii, 17-year-old Susannah, her parents, and the crew discover a seemingly abandoned boat but soon find it contains two dead bodies and a large satchel of cash, which they haul aboard. Big mistake . . . Fans of sea stories and suspense will enjoy this one." —Booklist
"A masterful psychological thriller, seen through the eyes of multiple characters and told with enough suspense to keep you mighty wary of the sea for a spell. Fresh, unique, and well-plotted—it had me hooked from the first page to the last. I'm a fan. Definitely. Highly recommended!"  —Graham Salisbury, author of Night of the Howling Dogs and Under the Blood-Red Sun
"Cadnum takes threatening weather, a shark, a lost dog and guns galore and turns them into a nightmare scenario." —Kirkus Reviews
"Cadnum meticulously limns each character's personality and motives, embedding them in an expertly constructed web of intrigue. The straightforward prose attains elegance at times: Axel is described as 'simple the way a thumb is simple'; the yacht gets tangled up in a huge wad of fishing like 'a giant, diaphanous amoeba that spun out tendrils' . . . Lines such as these help place this drama of little people bobbing on the ocean's surface into a grander morality play in which big themes of fortune, greed, fate, and the certainty of death play out in a thrilling examination of 'life's tough truths.' " —The Horn Book
Advertisement