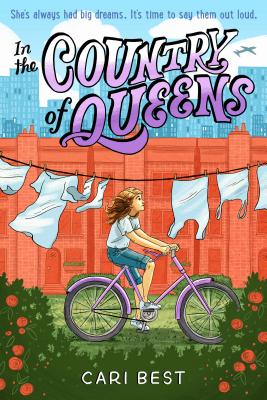 In the Country of Queens
Hardcover

* Individual store prices may vary.
Description
An Amazon Best Book of the Month
Eleven-year-old Shirley Alice Burns lives with her domineering mother, Hurricane Anna, and loving Grandmother. One day she unexpectedly discovers that her beloved father isn't in Absentia as her family would have her believe, but dead. And she understands all too well why they haven't told her; she's always been shy and quiet, and Anna has always been protective of her. But if Shirley doesn't start speaking up, she isn't going to be able to do the things she wants to do: go on vacation to Lake Winnipesaukee with her cousins, stop taking ballet lessons, and talk about her father. Through the help of a mouse, her hero Pippi Longstocking, and her cousin Phillie, Shirley finds the strength to give her dreams a voice and convince everyone, even Hurricane Anna, that she doesn't need to be sheltered, especially from the truth. In the Country of Queens is the debut novel from acclaimed picture-book author Cari Best.
Praise For In the Country of Queens…
"Picture-book author Best's first middle-grade novel sparkles and pops like a Fourth of July firecracker." —Kirkus Reviews, starred review
"Will tug at readers' heartstrings." —School Library Journal
"An engaging story . . . Best does do a good job of capturing a time and place and showing readers how confidence builds—Shirley's and perhaps their own." —Booklist
"Period details bring Shirley's world to life. [She] is an honest and relatable narrator." —Publishers Weekly
My Three Best Friends and Me, Zulay:
"Zulay's voice shines with rhythm and sensory detail, immersing readers naturally in her experience. . . . A slightly raised Braille alphabet on the back cover is a nice touch. Blind and sighted kids alike will enjoy this cheery outing." —Kirkus Reviews, starred review
"Best's prose and Brantley-Newton's digital images exude warmth and empathy." —Publishers Weekly
"Best's rendering of the cheerful inclusiveness in Zulay's classroom toward a child with a disability is equally exciting." —The New York Times
Ava and the Real Lucille:
"Endearing." —Publishers Weekly
"Lucille is the real deal." —Kirkus
"Reads aloud well . . . A warm story with its own quirky charm." —Booklist
Farrar, Straus and Giroux (BYR), 9780374370527, 224pp.
Publication Date: November 28, 2017
About the Author
Cari Best has written many award-winning picture books, including Sally Jean, the Bicycle Queen, a School Library Journal Best Book of the Year; and My Three Best Friends and Me, described by the New York Times as "refreshing" and "exciting." Her picture book If I Could Drive, Mama was described by Publishers Weekly as "a wonderful tribute to an imagination in perpetual motion." In the Country of Queens is her first novel. Ms. Best lives in Connecticut.