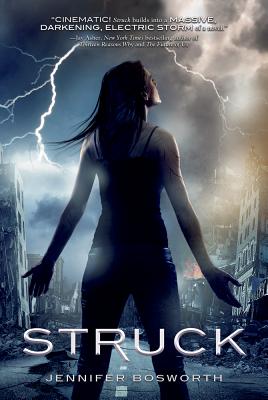 Struck (Hardcover)
Farrar Straus Giroux, 9780374372835, 373pp.
Publication Date: May 8, 2012
Other Editions of This Title:
Paperback (8/6/2013)
Paperback (4/1/2012)
* Individual store prices may vary.
Description
Mia Price is a lightning addict. She's survived countless strikes, but her craving to connect to the energy in storms endangers her life and the lives of those around her.
Los Angeles, where lightning rarely strikes, is one of the few places Mia feels safe from her addiction. But when an earthquake devastates the city, her haven is transformed into a minefield of chaos and danger. The beaches become massive tent cities. Downtown is a crumbling wasteland, where a traveling party moves to a different empty building each night, the revelers drawn to the destruction by a force they cannot deny. Two warring cults rise to power, and both see Mia as the key to their opposing doomsday prophecies. They believe she has a connection to the freak electrical storm that caused the quake, and to the far more devastating storm that is yet to come.
Mia wants to trust the enigmatic and alluring Jeremy when he promises to protect her, but she fears he isn't who he claims to be. In the end, the passion and power that brought them together could be their downfall. When the final disaster strikes, Mia must risk unleashing the full horror of her strength to save the people she loves, or lose everything.
About the Author
Jennifer Bosworth lives in Los Angeles, California, where lightning hardly ever strikes, but when it does she takes cover. She is the writer half of a writer/director team with her husband, Ryan Bosworth. Learn more about her at www.jenniferbosworth.com.
Praise For Struck…
"...compelling."--BCCB
"With a complex plot, several intriguing characters, and a believable future L.A., this novel should earn a spot on supernatural romance shelves."--School Library Journal
"Part apocalyptic survival fiction, part supernatural romance, this taut novel is entirely absorbing."--Horn Book
 "A creative premise and developed setting with a fast, fun...plot." —Kirkus
"Bosworth's debut catches attention with vivid descriptions and a snazzy premise…"—Publishers Weekly
"Cinematic! Struck builds into a massive, darkening, electric storm of a novel." —Jay Asher, author of Thirteen Reasons Why and The Future of Us
"Fast-paced and crackling with action, Bosworth's gritty saga of a lightning-kissed girl with a dangerous gift kept me rapt until its final riveting pages. Struck is a striking debut."  —Ransom Riggs, author of Miss Peregrin's Home for Peculiar Children
"The premise is wonderful . . . This story has a solid build up and a terrific ending." —Terry Brooks, author of the Word & Void series
or
Not Currently Available for Direct Purchase