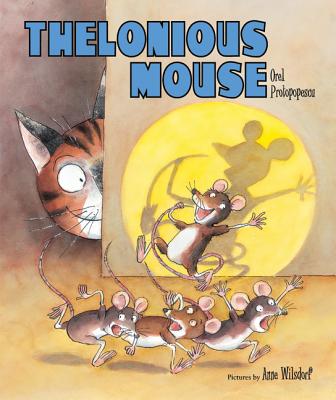 Thelonious Mouse (Hardcover)
Farrar, Straus and Giroux (BYR), 9780374374471, 32pp.
Publication Date: June 7, 2011
* Individual store prices may vary.
Description
Thelonious the mouse has got so much rhythm in him he can't help letting it out. To his family's horror, he won't stop scatting and shimmying around the house, teasing deadly Fat Cat instead of collecting crumbs like the rest of them. But just as Thelonious's games become too dangerous, he find a most unexpected musical partner in this jaunty picture book with art and text that truly sing!
About the Author
Orel Protopopescu
I grew up with two older sisters in Hempstead, Long Island, a town considered, throughout the 1950s, to be a model of integration. My mother was a dedicated third-grade teacher in an inner-city school. I devoured all the books she brought me. My father, a lawyer who preferred bridge and backgammon to the law, taught me chess and told stories that made me laugh. He was born in Russia and named me for a Russian city, something that I was often teased about at school. It was the Cold War. We had frequent air-raid drills where we had to crouch down in the hallways with our coats over our heads. I was also teased for being the only kid in school who'd skipped the fourth grade.
Still, I loved my neighborhood, with its people of every color and nationality. Our friends from Jamaica taught us the limbo. Gospel music spilled out of the Baptist church, jazz and rhythm and blues from many houses. I rode my bike everywhere, making up poems in my head. In a poem that won a prize in Oberon poetry magazine's 2006 contest, judged by Louis Simpson, I paint a picture of myself in high school: "Where is the girl who forgot to eat, / who thought nothing of riding a bike / thirty miles to Manhattan after school, / who recited poems in the grass by candlelight, / chanted hymns of praise to trees and stars, / read books as she wrote them in her sleep . . ."
By the middle of the 1960s, our family alone was integrating our street and I had a keener awareness of the inequalities in American life. I joined the Long Island Congress of Racial Equality and picketed Hempstead Town Hall wearing a sign that said, "Slums Are the Shame of Hempstead." You can see that fifteen-year-old me in a book Lillian Smith wrote about the civil rights movement: Our Faces, Our Words. Today, I'm still an activist.
When I was sixteen, my mother died of cancer. By then, my father had lost his job. That was a terrible time. But in my senior year, I won a debating contest and ended up as a delegate to the New York Herald Tribune World Youth Forum. We were taken all over Europe, meeting heads of state. I met the Bolivian delegate and, after graduate school, married him.
We have two daughters, born in 1978 and 1982. They are two reasons I began writing for children. Before, I'd worked as a storyteller and a writer and producer of educational films, though poetry remained my first love.
I started my teaching career at my kitchen table, leading a writing club for my older daughter and her friends. Soon, my first two picture books were published, Since Lulu Learned the Cancan (illustrated by Sandra Forrest) and The Perilous Pit (illustrated by Jacqueline Chwast) and both appear as animated apps from Auryn in Spring 2012. The Perilous Pit was a New York Times Book Review "Best Illustrated Children's Book" of 1993.
My book of translations of Chinese poetry (coauthored by Siyu Liu), A Thousand Peaks: Poems from China, was selected for the New York Public Library's Books for the Teen Age 2003 list. Two Sticks (illustrated by Anne Wilsdorf) appeared on Farrar, Straus and Giroux's Spring 2007 list and was honored by Bank Street's College of Education as one of the best children's books of the year. This humorous picture book in rhymed verse grew from the music of my childhood, as did my next FSG book, Thelonious Mouse (2011), illustrated by Anne Wilsdorf with the same comic verve she brought to Two Sticks. My love of music is also evident in my chapbook of poems, What Remains (Finishing Line Press, 2011) which contains the poem chosen as Oberon's 2010 first-prize winner, judged by L. S. Asekoff, "Listening to My Favorite Things from The Best of John Coltrane."
Currently, I'm collaborating with an illustrator (Jeanne de Sainte Marie) and producer (Actialuna) based in Paris, France, on an animated, inter-active poetry app for the iPad, A Word's A Bird, which takes flight in 2012. I look forward to sharing it with the children in my poetry workshops.
Of all the reviews of my writing and teaching, the one I treasure most came from a former student, Christine Slatest, now an English teacher. A poem she wrote in fifth grade appears in my book Metaphors & Similes You Can Eat and 12 More Great Poetry Writing Lessons. Christine wrote, "My interest in writing poetry began in Mrs. Protopopescu's workshops. Her visits to my elementary school changed my life." An author/teacher can't hope for more than that.
Author and illustrator Anne Wilsdorf was born to Alsatian parents in Saint-Paul de Luanda, Angola, in 1954. After a childhood and adolescence spent living in many countries (Angola, Congo, Argentina, Morocco, France, and Belgium), she settled in Lausanne, Switzerland, in 1976. There, she began publishing her drawings in newspapers and children¹s publications, followed by her first books. She has continued this path ever since, working with publishers in Switzerland, France, Germany and the United States. Her books, numbering more than twenty, have been translated into numerous languages, most recently into Korean.
Anne Wilsdorf was the Swiss candidate for the prestigious Andersen prize in 2000. Complementing her work as an illustrator, Anne Wilsdorf teaches illustration at l'Ecole Romande des Arts de la Communication, in Lausanne.
Praise For Thelonious Mouse…
"The hip rhythms and tongue-twisting humor in this jazzy, poetic, fun-to-read-aloud book make it a keeper your child will want to read over and over again." —Cricket Magazine online
"Getting the beat and the tongue-twisting phrases just right takes some practice, but the outcome is well worth the effort." —SLJ
"Children will cheer for this rascally oddball rebel." —Booklist
"Replete with scat-y, cat-and-mouse–y wordplay, this is giggle-worthy fun." —Kirkus Reviews
"The text sets a catchy rhythm and never lets go. Wilsdorf's illustrations, rich in saturated color, glow with warmth and vibrancy." —Kirkus Reviews on TWO STICKS
"Wilsdorf captures the verve and action of the tale in vibrant colors and broad strokes." —School Library Journal on TWO STICKS
"Pure entertainment." —The Orlando Sentinel on TWO STICKS
"This rollicking romp represents a wonderful marriage of text and illustration. Wacky and sure to elicit a giggle, this one is a winner." —School Library Journal on SUNNY BOY!
"Kids . . . will whoop over the silliness and derring-do." —Booklist on SUNNY BOY!
or
Not Currently Available for Direct Purchase