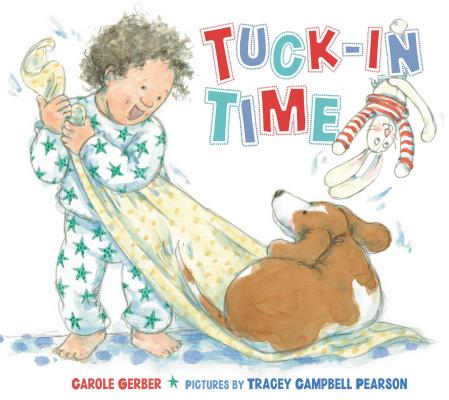 Tuck-in Time
A Picture Book
Hardcover

* Individual store prices may vary.
Description
When I tuck you in,
what do I see?
Two little eyes shining at me.
I see two little ears
that I want you to tweak
and a round little nose.
Can you push it? Beep! Beep!
So begins this naptime or bedtime romp that eventually has the child all tuckered out and ready for sleep—until Mama remembers she forgot one important thing. What could it be? A kiss, of course!
Praise For Tuck-in Time: A Picture Book…
"With lulling rhymes and a creative approach, this fresh offering will help little ones wind down before sleep . . . A quiet yet captivating bedtime story to add to a child's nightly routine." —Booklist
"A stuffed bunny cavorting on the endpapers as well as a puppy, bunny in its mouth, standing guard by a bed in the following scene, usher children into this delightful bedtime ritual." —School Library Journal
"A charming bedtime read-aloud." —Kirkus Reviews
Farrar, Straus and Giroux (BYR), 9780374378608, 40pp.
Publication Date: August 19, 2014
About the Author
Carole Gerber
has written many children's books, including
Tuck-in Time
, as well as several books for adults. She received her BS in English education from Ohio State, and after two years teaching middle and high school English returned to earn an MA in journalism. She has also worked as a marketing director, magazine editor, and freelance writer of textbooks, articles, and speeches. She lives in Powell, Ohio.
When I was very small, I didn't have a special blanket or a beloved stuffed animal that was my constant companion. I had a little book that I carried with me everywhere. The Art of El Greco may seem an odd choice for a toddler, but I really loved the painting of the Cardinal in red. I thought he was Santa. I still carry a little book with me everywhere, but now it is a sketchbook that I fill with my own drawings.
I was born in 1956 and grew up in Connecticut. As the youngest child, I was always trying to catch up to my older brothers and sister. It didn't work, so I spent a lot of time creating my own world in my imagination and in my drawings. My favorite place to be was in the woods, following stone walls to secret places.
After high school, I wanted to go to Paris. I ended up at Syracuse University, then at Parsons School of Design in New York City. While studying fashion illustration at Parsons, I discovered a class in children's book illustration. In the very first class I knew I had found what I wanted to do. I decided to change my career plans while riding the elevator with my teacher. He got off the elevator and went home; I went back up and changed my major. Next, I went to the local bookstore to look for books by the instructor. I found several, including Where the Wild Things Are. My class was taught
by Maurice Sendak.
Twenty-five years and as many books later, it is my love of the process that keeps me creating picture books. In all of my books, rhythm and movement are important. The text and illustrations should dance together. My goal is to create a book that a child will want to read again and again, finding something new in the illustrations each time she looks at them.
Every book gives me the opportunity to grow as an illustrator and author. Each story asks to be a different book. Where Does Joe Go? wanted to be horizontal with double-page spreads and color going to the edges of the paper. I worked in pen and ink and watercolor. Bob, however, needed to be a book that was big, bold, and square. I wanted the child in the back of a crowd to be able to see Bob and meow, moo, ribbet, and hop. I still used watercolor for the illustrations, but with pencil instead of ink. Myrtle is on my drawing board right now. She is as quiet as Bob is bold.
Tracey Campbell Pearson has been living in Vermont with her family for twenty years. She still spends a lot of time creating her own world in her head and in her books. She shares that world with her husband, two children, a dog, and a cat. They all love walking in the woods. Except the cat: he prefers the meadow.
or
Not Currently Available for Direct Purchase