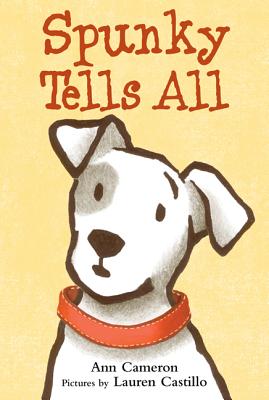 Spunky Tells All (Hardcover)
Farrar Straus Giroux, 9780374380007, 105pp.
Publication Date: October 11, 2011
Description
Spunky the dog would be happy to share all of his secrets, if only his human family spoke his language. But no matter how hard he tries to talk, it's all "yerf!" to them. Through a series of unfortunate miscommunications, his family decides that Spunky wants a friend--specifically, a cat. Spunky can't imagine anything worse than having to share his family, especially Huey and Julian, with the snobby  Balinese Fiona. But when headstrong Fiona keeps getting into trouble and it's up to Spunky to save her, he is astonished to find that being her protector has given his life new purpose and meaning.
The latest addition to the beloved Huey and Julian series, which includes the popular The Stories Julian Tells (featured on an Oprah.com summer reading list).
About the Author
Ann Cameron is the author of many books for young readers, including The Stories Julian Tells and the National Book Award finalist The Secret Life of Amanda K. Woods. She lives in Portland, Oregon. Lauren Castillo is the illustrator of many books for young readers, including Alfie Runs Away by Kenneth Cadow. She lives in Brooklyn, New York.
Praise For Spunky Tells All…
"Cameron has written another top-notch entry in the Julian and Huey series, this time from the brothers' pup's perspective." --School Library Journal, Starred Review "Readers will enjoy this pet story told from the pet's viewpoint." --Booklist "Dog fans…will delight in Spunky's tail-wagging tale-telling, which could introduce a new generation of kids to the Bates family chronicles." --BCCB "…this is a beginning chapter book that begs to be read." --Horn Book Magazine "Readers ready for chapter books will delight in seeing the world through Spunky's eyes and powerful nose." --Kirkus Reviews, starred review
"Spunky Tells All is a beautiful tale of human, cat, and dog finding friendship together. I loved it. It speaks with deep spirit and fine observation of small telling things in a way that young humans will understand." --Paula Fox, author of the Newbery Award winning The Slave Dancer
"I loved going back inside Huey and Julian's world, but this time, through the eyes of the wise and loyal Spunky. A book with humor, heart, and a lovable dog. Who could ask for more?"—Barbara O'Connor, author of How to Steal a Dog
"I fell in love with Spunky who, in his own words, is a considerate Dog and only tries to do what is best for his human family. His tale, both charming and hilarious, will make readers laugh out loud—and pay much closer attention to what their own dogs are really saying."—Ann M. Martin, author of Everything for a Dog
Advertisement